Classic FM Chart: Reentry from Alfie Boe goes straight to no. 1
12 March 2017, 19:00 | Updated: 13 March 2017, 15:15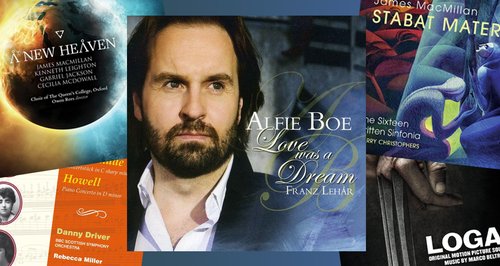 Sunday 12th March: There is a new no. 1 this week - a reentry from Alfie Boe - alongside a staggering seven new entries.
There is a new no. 1 this week in the Classic FM Chart. Alfie Boe's Love Was A Dream re-entered the chart this week straight at no. 1, knocking Einaudi, who had been no. 1 for two consecutive weeks, to no. 2.
There are further highlights in the top 5 and top 10 this week - no. 3 features a new entry from Queen's College Oxford with A New Heaven and no. 4 is the latest album from The Sixteen, also a new entry. All of these new entries push long-time previous no. 1, Max Richter's Three Worlds: Music from Woolf Works, down to no. 5.
Elsewhere in the top 10, there is a new entry at no. 6 - Beach, Chaminade, Howell: Piano Concertos from the BBC Scottish Symphony Orchestra - which is closely followed by a reentry from Max Richter's Recomposed at no. 7, bringing him back to two in the top 10.
In the rest of the Classic FM Chart, the highest climber (apart from Alfie Boe's reentry into no. 1) comes from Cinema by Andrea Bocelli, which jumps from no. 47 up to no. 11, a massive 36 places. The biggest faller is last week's no. 2, Beatrice Rana's Bach: Goldberg Variations, which is now out of the chart, and biggest faller still within the chart is Hans Zimmer's Classics which has been on a rollercoaster for several weeks now, dropping 23 places.
Finally, there are four more new entries in the Classic FM Chart, including albums from the soundtrack to latest Marvel film Logan and BBC National Orchestra of Wales.
This
Week
Last
Week
Title & Artist
1
RE
LOVE WAS A DREAM, ALFIE BOE


Buy from Amazon

-

Download from iTunes

2
1
ISLANDS - ESSENTIAL EINAUDI, LUDOVICO EINAUDI


Buy from Amazon

-

Download from iTunes

3
NEW
A NEW HEAVEN, QUEEN'S COLLEGE OXFORD CH/REES


Buy from Amazon

-

Download from iTunes

4
NEW
MACMILLAN/STABAT MATER, SIXTEEN/BRITTEN SINFONIA


Buy from Amazon

-

Download from iTunes

5
3
THREE WORLDS - MUSIC FROM WOOLF WORKS, MAX RICHTER


Buy from Amazon

-

Download from iTunes

6
NEW
BEACH/CHAMINADE/HOWELL/PIANO CONCERTOS, DRIVER/BBC SSO/MILLER


Buy from Amazon

-

Download from iTunes

7
RE
RECOMPOSED BY MAX RICHTER/VIVALDI - FOUR, HOPE/KONZERTHAUS CO/RIDDER


Buy from Amazon

-

Download from iTunes

8
5
THE 50 GREATEST PIECES OF CLASSICAL MUSIC, LPO/PARRY


Buy from Amazon

-

Download from iTunes

9
6
THE CLASSICAL ALBUM, VARIOUS ARTISTS


Buy from Amazon

-

Download from iTunes

10
7
ELEMENTS, LUDOVICO EINAUDI


Buy from Amazon

-

Download from iTunes

11
RE
CINEMA, ANDREA BOCELLI


Buy from Amazon

-

Download from iTunes

12
9
LION - OST, DUSTIN O'HALLORAN & HAUSCHKA


Buy from Amazon

-

Download from iTunes

13
11
THE BLUE NOTEBOOKS, MAX RICHTER


Buy from Amazon

-

Download from iTunes

14
NEW
LOGAN - OST, MARCO BELTRAMI


Buy from Amazon

-

Download from iTunes

15
10
THE LORD OF THE RINGS - TRILOGY - OST, HOWARD SHORE


Buy from Amazon

-

Download from iTunes

16
8
CLASSIC FM - A NIGHT AT THE MOVIES, VARIOUS ARTISTS


Buy from Amazon

-

Download from iTunes

17
16
SLEEP, MAX RICHTER


Buy from Amazon

-

Download from iTunes

18
15
GAME OF THRONES - SEASON 6 - OST, RAMIN DJAWADI


Buy from Amazon

-

Download from iTunes

19
NEW
BRITISH TONE POEMS - VOL 1, BBC NAT OR WALES/GAMBA


Buy from Amazon

-

Download from iTunes

20
12
IN A TIME LAPSE, LUDOVICO EINAUDI


Buy from Amazon

-

Download from iTunes

21
13
ROGUE ONE - A STAR WARS STORY - OST, MICHAEL GIACCHINO


Buy from Amazon

-

Download from iTunes

22
NEW
CLASSICAL - THE COLLECTION, VARIOUS ARTISTS


Buy from Amazon

-

Download from iTunes

23
25
BRAVEHEART - OST, LSO/HORNER


Buy from Amazon

-

Download from iTunes

24
NEW
RIMUR, TRIO MEDIAEVAL/ARVE HENRIKSEN


Buy from Amazon

-

Download from iTunes

25
21
THE LORD OF THE RINGS - OST, HOWARD SHORE


Buy from Amazon

-

Download from iTunes

26
20
BELIEVE, JONATHAN ANTOINE


Buy from Amazon

-

Download from iTunes

27
4
ZIMMER/THE CLASSICS, VARIOUS ARTISTS


Buy from Amazon

-

Download from iTunes

28
23
THE LITTLE MERMAID - OST, ALAN MENKEN


Buy from Amazon

-

Download from iTunes

29
19
GLADIATOR - OST, HANS ZIMMER & LISA GERRARD


Buy from Amazon

-

Download from iTunes

30
22
DIVENIRE, LUDOVICO EINAUDI


Buy from Amazon

-

Download from iTunes