Classic FM Chart: Aled Jones's 'One Voice: Believe' stays at no. 1 for a second week
19 November 2017, 18:55 | Updated: 20 November 2017, 12:30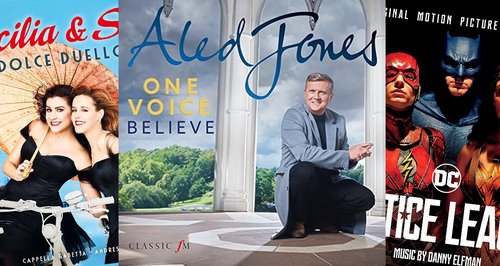 One Voice: Believe holds on to the no. 1 spot in the Classic FM Chart for the second week, after entering the chart straight into the top spot last week. Meanwhile, Einaudi's Islands clinches onto its position at no. 2.
The Ayoub Sisters and the soundtrack for Blue Planet are pushed off the no. 3 and no. 4 spots by two new entries - Dolce Duello by Cecilia Bartoli and Sol Gabetta, and Danny Elfman's soundtrack for Justice League respectively. As we edge closer to December, Andre Rieu's Best of Christmas climbs up the chart five places to no. 6 and there is a further new entry from Patrick Doyle with his soundtrack to the remake of Agatha Christie's Murder on the Orient Express.
Just outside the top ten there is the first of two re-entries this week - Gareth Malone's Great British Christmas. No. 18 is our fifth new entry of the week - Bournemouth Symphony Orchestra playing George Dyson's Choral Symphony - and no. 19 is our second re-entry, Einaudi's Divenire.
The lower third of the chart includes our sixth and final new entry this week, The Film Scores and Original Music of George Martin at no. 24 as well as this week's biggest faller - Alexander Armstrong's recording of Peter and the Wolf, down 16 places.
This
Week
Last
Week
Title & Artist
1
1
ONE VOICE - BELIEVE, ALED JONES


Buy from Amazon

-

Download from iTunes

2
2
ISLANDS - ESSENTIAL EINAUDI, LUDOVICO EINAUDI


Buy from Amazon

-

Download from iTunes

3
NEW
DOLCE DUELLO, CECILIA BARTOLI & SOL GABETTA


Buy from Amazon

-

Download from iTunes

4
NEW
JUSTICE LEAGUE - OST, DANNY ELFMAN


Buy from Amazon

-

Download from iTunes

5
3
THE AYOUB SISTERS, AYOUB SISTERS


Buy from Amazon

-

Download from iTunes

6
11
BEST OF CHRISTMAS, ANDRE RIEU & JOHANN STRAUSS


Buy from Amazon

-

Download from iTunes

7
7
ONE VOICE AT CHRISTMAS, ALED JONES


Buy from Amazon

-

Download from iTunes

8
9
LAST NIGHT OF THE PROMS - THE ULTIMATE, VARIOUS ARTISTS


Buy from Amazon

-

Download from iTunes

9
4
BLUE PLANET II - OST, HANS ZIMMER/SHEA/FLEMING


Buy from Amazon

-

Download from iTunes

10
NEW
MURDER ON THE ORIENT EXPRESS - OST, PATRICK DOYLE


Buy from Amazon

-

Download from iTunes

11
5
DECEMBER LIGHTS, ANDRE RIEU


Buy from Amazon

-

Download from iTunes

12
15
ELEMENTS, LUDOVICO EINAUDI


Buy from Amazon

-

Download from iTunes

13
RE
A GREAT BRITISH CHRISTMAS, GARETH MALONE


Buy from Amazon

-

Download from iTunes

14
14
SYMPHONIC ADIEMUS, KARL JENKINS


Buy from Amazon

-

Download from iTunes

15
18
CAROLS FROM KING'S COLLEGE CAMBRIDGE, KING'S COLLEGE CHOIR/WILLCOCKS


Buy from Amazon

-

Download from iTunes

16
17
IN A TIME LAPSE, LUDOVICO EINAUDI


Buy from Amazon

-

Download from iTunes

17
12
THE LORD OF THE RINGS - TRILOGY - OST, HOWARD SHORE


Buy from Amazon

-

Download from iTunes

18
DYSON/CHORAL SYMPHONY, BACH CH/BOURNEMOUTH SO/HILL


Buy from Amazon

-

Download from iTunes

19
RE
DIVENIRE, LUDOVICO EINAUDI


Buy from Amazon

-

Download from iTunes

20
6
THE ULTIMATE CLASSIC FM ALBUM, VARIOUS ARTISTS


Buy from Amazon

-

Download from iTunes

21
19
THE LITTLE MERMAID - OST, ALAN MENKEN


Buy from Amazon

-

Download from iTunes

22
13
THE 50 GREATEST PIECES OF CLASSICAL MUSIC, LPO/PARRY


Buy from Amazon

-

Download from iTunes

23
16
SINGING MY DREAMS, CARLY PAOLI


Buy from Amazon

-

Download from iTunes

24
NEW
MARTIN/FILM SCORES & ORIGINAL ORCHESTRAL, BERLIN MUSIC ENSEMBLE/LEON


Buy from Amazon

-

Download from iTunes

25
27
CHRISTMAS CLASSICAL VOICES, VARIOUS ARTISTS


Buy from Amazon

-

Download from iTunes

26
10
PETER AND THE WOLF, ARMSTRONG/RLPO/PETRENKO


Buy from Amazon

-

Download from iTunes

27
25
THE LORD OF THE RINGS - OST, HOWARD SHORE


Buy from Amazon

-

Download from iTunes

28
23
GAME OF THRONES - SEASON 7 - OST, RAMIN DJAWADI


Buy from Amazon

-

Download from iTunes

29
21
ONE VOICE, ALED JONES


Buy from Amazon

-

Download from iTunes

30
29
THE ARMED MAN - A MASS FOR PEACE, KARL JENKINS


Buy from Amazon

-

Download from iTunes