Classic FM Chart: 'One Voice: Believe' by Aled Jones enters the chart at no. 1
12 November 2017, 18:55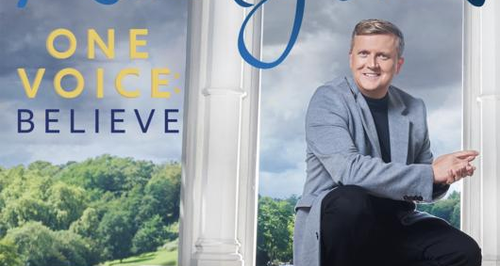 The final album in Aled Jones's One Voice album trilogy, One Voice: Believe, has entered The Classic FM Chart at No. 1!
The Classic FM Chart sees a brand-new album take the top spot this week: Aled Jones's One Voice: Believe. With One Voice also re-entering the chart at no. 21 and One Voice at Christmas sitting comfortably at no. 7, all three of the albums from the One Voice trilogy currently feature in the Classic FM Chart.
The top ten also features a re-entry for The Ayoub Sisters back at no. 3 plus this week's highest climber - Andre Rieu's December Lights - up twenty-four place from no. 29 to no. 5. It's also proving to be Andre Rieu's week, as his Best of Christmas album also enters the chart just outside the top ten at no. 11.
There are further re-entries this week in the lower end of the chart from King's College Cambridge choir at no. 18, plus Classical Voices at no. 27 and Karl Jenkins's The Armed Man: A Mass for Peace at no. 29. This week's biggest faller is The Very Best of Jacqueline du Pré, which falls nineteen places to no. 7 to no. 26.
This
Week
Last
Week
Title & Artist
1
NEW
ONE VOICE - BELIEVE, ALED JONES


Buy from Amazon

-

Download from iTunes

2
2
ISLANDS - ESSENTIAL EINAUDI, LUDOVICO EINAUDI


Buy from Amazon

-

Download from iTunes

3
RE
THE AYOUB SISTERS, AYOUB SISTERS


Buy from Amazon

-

Download from iTunes

4
6
BLUE PLANET II - OST, HANS ZIMMER/SHEA/FLEMING


Buy from Amazon

-

Download from iTunes

5
29
DECEMBER LIGHTS, ANDRE RIEU


Buy from Amazon

-

Download from iTunes

6
19
THE ULTIMATE CLASSIC FM ALBUM, VARIOUS ARTISTS


Buy from Amazon

-

Download from iTunes

7
8
ONE VOICE AT CHRISTMAS, ALED JONES


Buy from Amazon

-

Download from iTunes

8
1
MUSIC FOR MINDFULNESS, VARIOUS ARTISTS


Buy from Amazon

-

Download from iTunes

9
3
LAST NIGHT OF THE PROMS - THE ULTIMATE, VARIOUS ARTISTS


Buy from Amazon

-

Download from iTunes

10
11
PETER AND THE WOLF, ARMSTRONG/RLPO/PETRENKO


Buy from Amazon

-

Download from iTunes

11
NEW
BEST OF CHRISTMAS, ANDRE RIEU & JOHANN STRAUSS


Buy from Amazon

-

Download from iTunes

12
14
THE LORD OF THE RINGS - TRILOGY - OST, HOWARD SHORE


Buy from Amazon

-

Download from iTunes

13
12
THE 50 GREATEST PIECES OF CLASSICAL MUSIC, LPO/PARRY


Buy from Amazon

-

Download from iTunes

14
16
SYMPHONIC ADIEMUS, KARL JENKINS


Buy from Amazon

-

Download from iTunes

15
13
ELEMENTS, LUDOVICO EINAUDI


Buy from Amazon

-

Download from iTunes

16
28
SINGING MY DREAMS, CARLY PAOLI


Buy from Amazon

-

Download from iTunes

17
15
IN A TIME LAPSE, LUDOVICO EINAUDI


Buy from Amazon

-

Download from iTunes

18
RE
CAROLS FROM KING'S COLLEGE CAMBRIDGE, KING'S COLLEGE CHOIR/WILLCOCKS


Buy from Amazon

-

Download from iTunes

19
18
THE LITTLE MERMAID - OST, ALAN MENKEN


Buy from Amazon

-

Download from iTunes

20
21
TCHAIKOVSKY/SYMPHONY NO 6, MUSICAETERNA/CURRENTZIS


Buy from Amazon

-

Download from iTunes

21
RE
ONE VOICE, ALED JONES


Buy from Amazon

-

Download from iTunes

22
5
SCHUBERT/PIANO SONATAS, KRYSTIAN ZIMERMAN


Buy from Amazon

-

Download from iTunes

23
20
GAME OF THRONES - SEASON 7 - OST, RAMIN DJAWADI


Buy from Amazon

-

Download from iTunes

24
22
GLADIATOR - OST, HANS ZIMMER & LISA GERRARD


Buy from Amazon

-

Download from iTunes

25
26
THE LORD OF THE RINGS - OST, HOWARD SHORE


Buy from Amazon

-

Download from iTunes

26
7
THE VERY BEST OF, JACQUELINE DU PRE


Buy from Amazon

-

Download from iTunes

27
RE
CHRISTMAS CLASSICAL VOICES, VARIOUS ARTISTS


Buy from Amazon

-

Download from iTunes

28
27
DUNKIRK - OST, HANS ZIMMER


Buy from Amazon

-

Download from iTunes

29
RE
THE ARMED MAN - A MASS FOR PEACE, KARL JENKINS


Buy from Amazon

-

Download from iTunes

30
30
DVORAK/QUINTETS, GILTBURG/NIKL/PAVEL HAAS QRT


Buy from Amazon

-

Download from iTunes