The Classic FM Chart - Sunday 6 December 2015, 5pm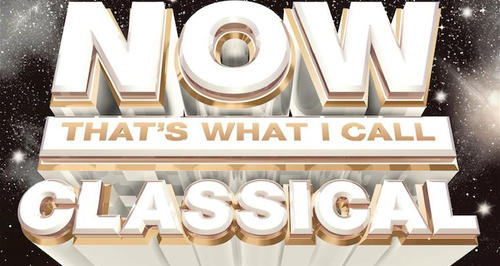 Now That's What I Call Classical is this week's highest new entry.
There's no change in the Top 3 this week. Alexander Armstrong has managed to hold back the combined might of André Rieu and Andrea Bocelli to stay at No.1.
The highest new entry is John Suchet's Album of the Week, Now That's What I Call Classical, a mega three album compilation of classical favourites including works that have enjoyed a new lease of life from TV adverts and the movies.

Next week's Artists of the Week, boys choral ensemble Libera also enter the chart with a suitably seasonal offering at No.19.
This
Week
Last
Week
Title & Artist
1
1
A YEAR OF SONGS, ALEXANDER ARMSTRONG


Buy from Amazon

-

Download from iTunes

2
2
ROMAN HOLIDAY, ANDRE RIEU/JOHANN STRAUSS ORCHESTRA


Buy from Amazon

-

Download from iTunes

3
3
CINEMA, ANDREA BOCELLI


Buy from Amazon

-

Download from iTunes

4
NEW
NOW THAT'S WHAT I CALL CLASSICAL, VARIOUS ARTISTS


Buy from Amazon

-

Download from iTunes

5
4
THE DARCEY BUSSELL BALLET COLLECTION, VARIOUS ARTISTS


Buy from Amazon

-

Download from iTunes

6
5
CLASSIC FM - CAROLS WITH ST PAUL'S, ST PAUL'S CATHEDRAL CH/CARWOOD


Buy from Amazon

-

Download from iTunes

7
6
BEST OF CHRISTMAS, ANDRE RIEU


Buy from Amazon

-

Download from iTunes

8
7
CHRISTMAS CLASSICAL VOICES, VARIOUS ARTISTS


Buy from Amazon

-

Download from iTunes

9
8
ELEMENTS, LUDOVICO EINAUDI


Buy from Amazon

-

Download from iTunes

10
9
CHRISTMAS AT DOWNTON ABBEY, VARIOUS ARTISTS


Buy from Amazon

-

Download from iTunes

11
11
THE CHOIR - THE ULTIMATE COLLECTION, VARIOUS ARTISTS


Buy from Amazon

-

Download from iTunes

12
27
ESSENTIAL CAROLS, KING'S COLLEGE CHOIR/WILLCOCKS


Buy from Amazon

-

Download from iTunes

13
10
ISLANDS - ESSENTIAL EINAUDI, LUDOVICO EINAUDI


Buy from Amazon

-

Download from iTunes

14
16
CAROLS FROM KING'S COLLEGE CAMBRIDGE, KING'S COLLEGE CHOIR/WILLCOCKS


Buy from Amazon

-

Download from iTunes

15
13
LATEST & GREATEST - CLASSICAL STARS, VARIOUS ARTISTS


Buy from Amazon

-

Download from iTunes

16
12
SPECTRE - OST, THOMAS NEWMAN


Buy from Amazon

-

Download from iTunes

17
15
THE ULTIMATE CLASSIC FM HALL OF FAME, VARIOUS ARTISTS


Buy from Amazon

-

Download from iTunes

18
14
NESSUN DORMA - THE PUCCINI ALBUM, JONAS KAUFMANN


Buy from Amazon

-

Download from iTunes

19
NEW
ANGELS SING - LIBERA IN AMERICA, LIBERA


Buy from Amazon

-

Download from iTunes

20
26
RUTTER/GIFT OF LIFE, CAMBRIDGE SINGERS/RPO/RUTTER


Buy from Amazon

-

Download from iTunes

21
24
LOVE IN VENICE, ANDRE RIEU/JOHANN STRAUSS ORCHESTRA


Buy from Amazon

-

Download from iTunes

22
19
CANTATE DOMINO - LA CAPELLA SISTINA, SISTINE CHAPEL CHOIR/PALOMBELLA


Buy from Amazon

-

Download from iTunes

23
17
THE 50 GREATEST PIECES OF CLASSICAL MUSIC, LONDON PHILHARMONIC/PARRY


Buy from Amazon

-

Download from iTunes

24
21
CLASSICAL VOICES, VARIOUS ARTISTS


Buy from Amazon

-

Download from iTunes

25
18
MAGIC OF THE VIOLIN, ANDRE RIEU/JOHANN STRAUSS ORCHESTRA


Buy from Amazon

-

Download from iTunes

26
22
DECEMBER LIGHTS, ANDRE RIEU


Buy from Amazon

-

Download from iTunes

27
28
STAR WARS TRILOGY, WILLIAMS/SKYWALKER SYMPHONY


Buy from Amazon

-

Download from iTunes

28
25
CHOPIN/TCHAIKOVSKY/IN PARIS, LANG LANG


Buy from Amazon

-

Download from iTunes

29
RE
THE PLATINUM COLLECTION , KATHERINE JENKINS


Buy from Amazon

-

Download from iTunes

30
23
SLEEP, MAX RICHTER


Buy from Amazon

-

Download from iTunes