When Anne-Marie Minhall met Tom Hanks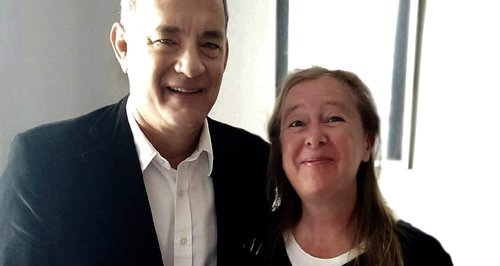 Anne-Marie, sitting in for Charlotte Green, meets the Oscar-winning Hollywood star.
In his new film, Tom Hanks plays a washed-up American businessman who sets out to recoup his losses by trying to pitch his idea for a holographic teleconferencing system to the Saudi government.
Last Sunday on Classic FM, Hanks talked to Anne-Marie Minhall about the film. It's been directed by Tom Tykwer – best known for Run Lola Run, Perfume and a previous collaboration with Hanks on Cloud Atlas.
And he told Anne-Marie about a strange tradition Tykwer upholds on the first day of shooting.
Click on the arrow below to hear a clip of the interview:
What's the only thing that can rattle Tom Hanks while filming?

A Hologram for the King is based on a novel by Dave Eggers, author of the award-winning memoir, A Heartbreak Work of Staggering Genius.

Hanks is a great fan of Eggers' writing. He told him, "You're the smartest guy in the world. You've never sold any of your books to the movies. That being said…I think this one [A Hologram for the King] really is kind of perfect because it's contemporary. It's got a logic to it that everybody can understand but no one can predict where its going to be going. In which case, if we do it right, it could be a decent commentary on who we are right now both domestically and internationally."
And Hanks told Anne-Marie that the author's presence on set in Morocco was very intimidating for the cast.
Click on the arrow below to listen to a clip of the interview:

Watch the trailer for A Hologram for the King, here:
Hear Anne-Marie Minhall's full interview with Tom Hanks on Classic FM, Sunday 22 May at 3pm.