Gardening tips: advice through the seasons from Alan Titchmarsh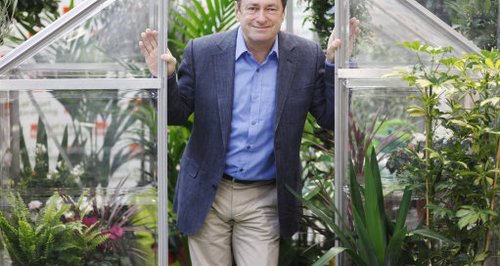 Every Saturday morning, Alan offers you a weekly gardening tip. Here's our year round guide to things you can do in the garden.
JANUARY

What to do with your Christmas tree?
If you have a Christmas tree which still has its roots on it, you can help it to survive, says Alan. Take it outside, put it in a sheltered spot, and when the weather turns a bit milder, you can plant it in the garden in its pot. "Then, come next Christmas, you can pull that pot out of the ground and use it again!"

Caring for the birds in your garden
"Hygiene with your bird feeders is really important," says Alan, "as is hygiene with the water you leave out for them. It needs to be fresh." As well as keeping your bird feeder filled, keep them clean, he says. "There's quite a bit of disease going around which particularly affects greenfinches."

Winter witch hazel
Witch hazel is "a lovely shrub for the garden," says Alan, "or if you've got a large tub or pot you can...have it on your patio and just go out there and enjoy sniffing your witch hazel blossoms in the heart of winter."

Hardy cyclamen coum
"They're tough little blighters," says Alan of these hardy blooms that can cope with frost and wintery weather. "They make great ground cover between shrubs and perennials in dappled shade, and they really do give you a shot in the arm as well as a wonderfully bright eyeful at this time of the year."
Essential snowdrops
The end of January is a great time to plant snowdrops, says Alan Titchmarsh. "And if you don't have any snowdrops in your garden, you don't know what you're missing," he adds. "A garden without snowdrops is like a kiss without a squeeze."
FEBRUARY

Planting an apple tree
"Every garden is the better for an apple tree" says Alan Titchmarsh. "They're just wonderful romantic things and I would have one in any garden – and early February is a great time to plant."



Getting the most out of your Valentine roses
They make a beautiful gift for your loved one. But how can you make sure you keep your roses blooming for as long as possible? Alan has some advice.

Fragrant winter plants
"There are several things in my garden at the moment that are wonderful to sniff," says Alan Titchmarsh. So why not take his advice and plant some daphnes – "the perfume is intense" – or sarcacocca (Greek for 'fleshy berry'). "It's a breath of, well not fresh air, but scented air."

Daffodils for spring
"One bulb above all others I would put in at this time of the year having missed the autumn is a little narcissus called Tete-a-Tete," says Alan. "Enjoy that wonderful host of golden daffodils."

MARCH

Time to give your garden some 'oomph'
"There's a kind of mucky job that I want to get out of the way because it'll stand you in good stead for the rest of the year," says Alan. Yes, it's time to get fertilising and sprinkling some well-rotted compost or manure on your beds.

Snake's head fritillary
"Something pretty this week," says Alan, "if you only have a window sill or perhaps a little table outside the backdoor." The extraordinarily named Snake's head fritillary, with their unusual chequered pattern - "they'll give you untold pleasure over the next week or two."
listen to 'Snake's head fritillary - chequered flowers for early spring' on audioBoom


Something colourful for your doorstep
"There's nothing better than tulips at this time of year, says Alan Titchmarsh. It can "give you a bit of hope for the spring to come…Plant them
in a large pot on your doorstep and just watch them bloom."

Filling the gaps in your garden
"It's the start of the planting season," says Alan Titchmarsh. "If you have gaps, prepare to fill them now" with border plants, perennials, shrubs, roses and trees, "and look forward to a brighter summer."



APRIL

Keep your rhododendrons green
How can you keep your rhododendrons "green as grass and as happy as larry" if you've got chalk or limestone in your soil? Alan has a great tip.



Care for your daffodils
"Be kind to your daffs now," says Alan Titchmarsh, "and you'll get good flowers next year." Here's how to do it:
Give room to your magnolia
"If you're tempted to buy a magnolia," says Alan, "do make sure when you plant it that it has room to grow, to spread sideways as well as upwards. Because pruned magnolias are generally butchered magnolias."

MAY
Supporting your plants
It's important to give your plants all the support they need to stay upright, says Alan: single canes for tall plants like delphiniums, twiggy pea sticks for lower things, and circular wire mesh support for things like peonies.
listen to 'Supporting your plants' on audioBoom

Looking after your lawn
Now is the perfect time to feed your lawn, says Alan. "It's doing a lot of growing at the moment and it could do with a bit of sustenance." Lawn feed is a very good idea and to keep it looking "good and velvety," he says, "mow your lawn once a week, it will encourage the grasses to sprout out lower down and become thicker and denser and more like a lawn than a field of grass."

Dealing with slugs and snails
Slugs and snails create a predicament for any gardener, especially if you - like Alan - don't like using chemicals. But he's got a helpful tip involving sticky, copper tape.

Time for bedding
The garden centres and nurseries are full of bedding plants, says Alan Titchmarsh, and they'll give you instant summer colour. "When we get that lovely warm showery day, plant them out in the garden…and with any luck right the way through the summer you'll have a wonderful show of flowers."

Grow something to eat
"Make this the year that you grow something to eat," says Alan Titchmarsh, and he's got the perfect suggestion to make it easy for you to propagate radishes, spring onions, french beans, even little lettuces.


JUNE
Time to plant daisies
One little plant that loves the sun is the osteospermum - the African or Cape Daisy. "It's a fabulous front of the border for a sunny bed or border," says Alan, "and it will delight you all the way through the year with its daisy flowers - really bright and cheery." It really won't let you down; plant them now!


Grow your own veggies
It's ever so exciting to grow your own food - and now's the time to do it. "There is nothing like the thrill of sewing a few seeds and then eating what you've grown yourself," says Alan.

Bargain hunting at the garden centre
Alan says there are great bargains to be picked up if you make a few visits to the local garden centre.
listen to 'Bargain hunting at the garden centre' on audioBoom

It's deadheading time
Alan believes that to keep your garden looking good, it's time to get out your secateurs and give your beds and borders a good snip. "Your garden will look a lot better in the end and you will feel more relaxed," Alan says.
JULY

What to do with your dry summer lawn
Alan has a tip on what you should not be doing with your lawn while the weather stays hot and dry.
listen to 'What to do with your dry summer lawn' on audioBoom

A little light watering and feeding
Containers are totally dependent on you for their sustenance at this time of the year, says Alan. Check them every day, and give them some dilute tomato fertiliser "and you'll have blooms almost coming out of your ears."

Summer hydrangeas
One plant that comes into its own at this time of the year, says Alan, is the hydrangea. They will stay looking good right through the summer, especially by the seaside.

Caring for your hanging basket
Not letting it dry out and giving it liquid tomato feed means that life isn't over for your hanging basket yet, if you treat it properly - says Alan.
AUGUST

Looking after your tomatoes
Give your tomato plants "even moisture and weekly feeding and then you can enjoy that succulent homegrown crop," says Alan.

Garden care while you're away
Alan has some tips on the best ways to look after your garden if you are off on your holidays.

Daffodil planting in summer
Believe it or not, now is the best time to get your daffodil bulbs planted for the best results come next spring. Alan tells you what to do.
SEPTEMBER

Time for bulbs
Alan says it's now time to get those tulip, crocus and daffodil bulbs ready to ensure a colourful springtime next year.

It's clipping time
Get your shears or electric hedge trimmer out and give your yew, holly or box hedges a late summer makeover.

Planting in layers
Alan has a creative idea to ensure a profusion of blooms throughout the next spring.

Charmed by chrysanthemums
Now's a good time to get yourself an enormous ball of chrysanthemums to bring a long-lasting burst of colour to your garden.
OCTOBER

Bring pink to autumn
While everything around us is turning orange and brown, how about injecting some vibrant pink - and a musky scent - into your garden? Alan suggests you plant some breathtaking Nerine bowdenii.

Apple and pear picking time
It's that time of year when you can check if your apples and pears are ripe. And even if they're not, says Alan, pick and store them anyway.

Plant wallflowers for spring
It may only be autumn but now's the best time to plan a splash of colour for your spring garden, says Alan Titchmarsh.

Planting snake's head fritillary for spring
Alan's off to plant the bulbs for one of his favourite flowers. Come next April, he says, you'll have a gorgeous little show in your garden.


NOVEMBER

Charm the winter away
Bring some colour into your living room with charm chrysanthemums, says Alan.


Rake up those fallen leaves
If you're tempted to leave those fallen leaves on the lawn, think again. The grass will not thank you if you don't rake them up...
Mint through the winter
"By keeping your mint roots in a slightly warmer spot," advises Alan, "you can make sure you've got mint to cut for your roast lamb right the way through the winter."


Bare root planting
"You can save a lot of money particularly if you are hedge-planting," says Alan. "Bare root planting will offer you a great deal of economy and you can do it right now."

What to do with your bulbs
"If you've got daffs, tulips, snowdrops, crocuses - you can treat yourself to a pot full of lasagne," says Alan, rather cryptically. Find out what he's on about here:

Winter-flowering heathers
"Marvellous things they are," says Alan, "absolute rugs of colour at this time of year…to give you brightness right the way through the winter."

DECEMBER

Looking after your poinsettia
They're everywhere this time of year, and Alan has some tips that will mean your poinsettia will last into the new year.


Stocking fillers for the gardener in your life
Alan has some ideas for Christmas presents for green-fingered recipients - including the best way to choose and maintain hyacinths. "Pick one that's got a bit of colour showing in the flower and the flower's quite clear of the bulbs," he says. "That means they'll open quite well."

Christmas tree care
"The best one to buy is the Nordmann Fir," says Alan. "It's a wonderful tree because it doesn't shed its needles quite so rapidly as the Old Norway Spruce…If you treat your christmas tree like a bunch of flowers it will last much longer than if you just stand it in the corner in a bucket of sand."
Instant fun from hyacinths
Keep them cool and bright, don't overwater them, says Alan, and they'll make a wonderful present.
Sowing your onion seeds on Boxing Day
It's a seasonal tradition that should not be ignored, says Alan, even if you won't reap the benefits till next summer.


Caring for plants you got for Christmas
Did you get a plant for Christmas? African violets? An azalea? A paper white narcissus? Some plants like to be warm and others cooler, says Alan, but "most of them will like as good a light as you can give them and at this time of year they are not really in danger of being scorched by sunshine coming through the window."