Classic FM Hall of Fame 2016: how will the presenters be voting
15 January 2016, 06:30 | Updated: 16 December 2016, 16:09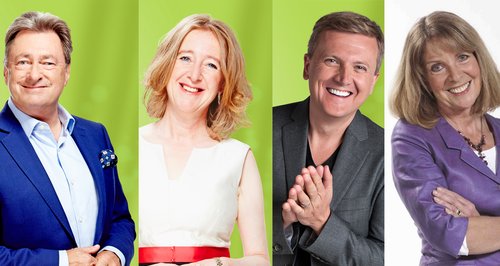 Voting for the 21st Classic FM Hall of Fame is now open – and we want to hear from you! But if you're still making up your mind which pieces to vote for, perhaps our presenters' choices will inspire you.
It's that time again – we're asking you to vote for your top three pieces of classical music in our annual poll of the nation's favourite music.
Are you a Fauré fan or smitten by Smetana? Tell us which three pieces you'd like to see in this year's Classic FM Hall of Fame and you could win one of five sets of £1,000. All you have to do is vote here.
But if you've not decided which great works to vote for yet, here's some inspiration courtesy of the Classic FM presenters.
What will the Classic FM presenters be voting for in 2016?
Alexander Armstrong
Which three pieces is Alexander voting for?
And you can hear Alexander on Classic FM Saturdays at 3pm and Sundays from 12pm.
Anne-Marie Minhall
The presenter of Classic FM Requests (weekdays from 1pm) leads her three choices with a much-loved piece by Vaughan Williams…
Alan Titchmarsh
Which pieces will Alan Titchmarsh be voting for in this year's poll…?
Join Alan on Classic FM, Saturday mornings at 9am.
Andrew Collins
Our Saturday Night at the Movies presenter has (of course) voted for three pieces with connections to films…
Jane Jones
And it's Rachmaninov who tops Jane's list – but not the ever-popular Second Piano Concerto…
Join Jane Jones for Full Works Concert Monday-Wednesday from 8pm.
John Brunning
Classic FM Drive presenter, John Brunning, favours Fauré for this year's chart. Do you agree?
David Mellor

Classic FM's resident critic has spoken and his three choices for the 2016 Classic FM Hall of Fame are…
Listen to David Mellor's show on Classic FM, Sundays from 7pm
Catherine Bott
The Full Works Concert presenter has made her choices…
Nicholas Owen
Find out what our presenter Nicholas Owen will be backing in this year's vote…
Have your say in the Classic FM Hall of Fame 2016 and vote now – once you've had your say, you'll be entered into a prize draw to win one of five £1,000 prizes.