Winners of Cliburn competition 2017 announced
12 June 2017, 12:43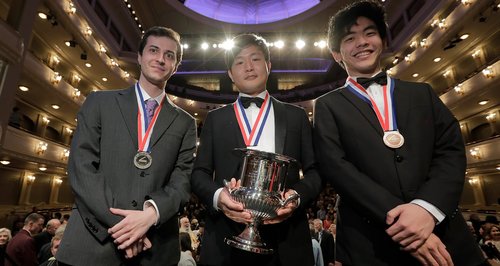 28-year-old Yekwon Sunwoo from South Korea takes the Gold Medal while the Audience Award goes to Rachel Cheung from Hong Kong
The 2017 Cliburn Competition has just come to an end in Fort Worth Texas and the top prize has gone to Yekwon Sunwoo from South Korea.
He wins a cash prize of $50,000, three years' management – including US concert tours, a recording partnership with Decca Gold, and promotional support.
The silver medal was awarded to Kenneth Broberg, 23, from the United States while the bronze medal went to Daniel Hsu, aged 19 and one of the competition's youngest pianists.
Hsu also won two further awards – for the Best Performance of Chamber Music and the Best Performance of a New Work.
Also in the final – and awarded $10,000 each – were Yuri Favorin, Rachel Cheung and Georgy Tchaidze.
The only woman to reach the final, Rachel Cheung, won the Audience Award, as voted by more than 20,000 people via cliburn.org.
This year's jury was chaired by conductor Leonard Slatkin and also included pianist Marc-André Hamelin.