Watch Joshua Bell in concert – live from the Verbier Festival
5 August 2016, 17:20 | Updated: 6 August 2016, 17:14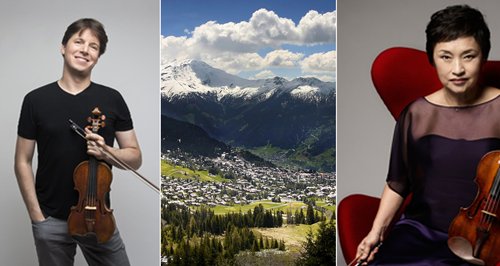 We're live-streaming concerts direct from the Verbier Festival this month – thanks to Medici.tv. You can watch two of the festival's concerts right now – and on Saturday 6th August we're live streaming a concert by Joshua Bell
Classic FM are enjoying some fantastic music in a spectacular alpine setting. And it's all rather splendid.
The Verbier Festival takes place every year in the stunning setting of the Swiss alps. Every year it attracts some of the biggest names in classical music – and this year is no exception.
This Saturday at 6pm, thanks to Medici.tv, we're live-streaming a performance by the brilliant violinist Joshua Bell and pianist George Li, who was one of the finalist's in last year's International Tchaikovsky Competition. Find out more about Medici.tv here.
The programme opens with Saint-Saëns' Piano Concerto No.2 before the Verbier Festival Chamber Orchestra performs Bizet's Symphony in C major and Joshua Bell brings the programme to an end with Saint-Saëns' Violin Concerto No.3. Joshua Weilerstein conducts.
Watch the live stream here:
And here's something, recorded this morning, to get you in the mood for good string music in the alps.
And in case you missed it, here's the whole of the opening concert of the festival: