This piano duet makes a Taylor Swift song sound as lush as Gershwin and Debussy
28 April 2016, 15:20 | Updated: 3 May 2016, 10:13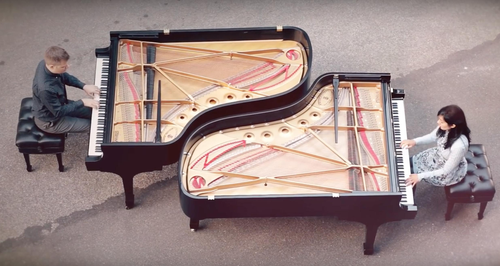 Please enjoy this twinkly-keyed version of one of Tay-Tay's finest ever works.
Labrinth has covered it. So have Kelly Clarkson and Ryan Adams.
Meghan Trainor even played it on a ukulele.
Now here come dynamic classical piano duo Greg Anderson and Elizabeth Joy Roe with their breakneck, finger-breaking version.
Album of the Week: Elizabeth Joy Roe plays John Field's Nocturnes >
The duo, who've been described as "the intense synchronization of genius" (and who could argue with that?) have no fear in taking on Taylor Swift's mahoosive hit.
Listen carefully and you can hear hints of Debussy, Gershwin, Bartok and Stravinsky.
And as if absorbing the song lyrics, the cameraman here "Can't stop, won't stop moving".