'There are 3,000 works for left-hand alone – so there's certainly enough to be getting on with' – Nicholas McCarthy
3 March 2017, 10:06 | Updated: 3 March 2017, 10:43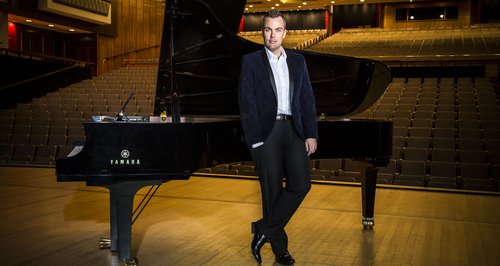 We spoke to the one-handed pianist about the music that's inspired him and the importance of commissioning new work
Nicholas McCarthy is the only left-hand alone pianist to have graduated from the Royal College of Music.
Ahead of a concert at the Royal Albert Hall's Elgar Room on 7 March, we spoke to him about the importance of continuing the tradition of left-hand alone piano music.
"Left hand piano music started around the 19th century when pianists would sometimes use a left-hand alone piece to finish their concerts, saying: 'you thought I was good with one hand, you wait and see what I can do with one hand'."
Much of the left-hand alone repertoire was commissioned by Paul Wittgenstein, who lost his right arm in the First World War.
"It was really thanks to him that I have a career today because I now have access to ths wonderful wealth of repertoire," said Nicholas. "People think it's a small repertoire, whereas in fact that are about 3000 works for left-hand alone. So there's certainly enough to be getting on with."
Nicholas has also spent his career commissioning new works for left-hand alone. He recently ran a composition competition and he'll be performing the winning piece at his concert on 7 March, in the Elgar Room at the Royal Albert Hall.
Find out more at Nicholas' website. And you can find him on Twitter @NMcCarthyPiano .