An in-depth masterclass on Bach's Suites for solo cello
16 May 2016, 10:52 | Updated: 20 May 2016, 09:59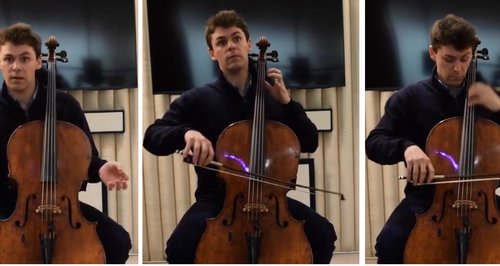 Christian-Pierre La Marca is one of today's top cellists – and Bach's Cellos Suites are some of the greatest pieces ever written for the instrument. So here's his guide to playing this landmark of the cello repertoire…
Remember that you're playing a dance
Most of the Bach Cello Suites are written as dances. So the key is to really feel the pulse of the music, as Christian-Pierre explains… And if you're watching this on mobile and are having trouble viewing the videos, you can see them all here.
Create your own acoustic
It's all about bow speed, says Christian-Pierre…
Feel the chord all the time
As he goes on to explain…
It's all about tension and release
And build towards every climax. Here's part of the first Prelude, to demonstrate:
Treat the Prelude as an introduction
Because that's what it is – almost an overture to the Suite.
And here he is putting all of that into practice…
Playing the Gigue from Bach's Cello Suite No.3
Christian-Pierre La Marca's latest recording Cantus is out now on Sony Classical and is available from Amazon and iTunes