Britain's Got Talent hopeful Mark McMullan sings 'Bring Him Home' in touching tribute to his brother
7 May 2019, 17:37 | Updated: 7 May 2019, 17:41
In a tribute to his brother Declan, Britain's Got Talent contestant Mark McMullan sang a beautiful rendition of 'Bring Him Home' from Les Misérables.
Mark McMullan performed a tender version of 'Bring Him Home' on Saturday night's show on ITV.
'Bring Him Home', a prayer-like ballad, is sung in the musical Les Misérables by Jean Valjean as a tribute to Marius.
The Britain's Got Talent hopeful, who dedicated the song to his brother, Declan, hopes his performance will raise awareness of the condition Locked-In Syndrome. Declan was tragically left unable to move after suffering a brain injury.
Marks Ode To Declan (Les Miserables - "Bring him home") Declan suffers from Locked in Syndrome.
Who is Mark McMullan?
Mark is a 23-year-old singer from Northern Ireland. In Saturday night's episode of Britain's Got Talent, he explains he applied for the talent show after "everything lined up" for him.
Mark first became known after a YouTube video of him singing 'Bring Him Home' to his brother went viral. He later found TV fame after singing the same song on Ireland's Late, Late, Late Show in 2015.
Mark McMullan - Bring Him Home | The Late Late Show | RTÉ One
What happened to Mark's brother, Declan?
Speaking to Metro, Mark explained: "Declan unfortunately when he was 19, he suffered a cardiac arrest in his bedroom, when we were getting ready for school one morning."
"He just dropped dead in the middle of the bedroom, but obviously, at this point, he was up earlier than the rest of us in the house so nobody was awake to know what was happening.
"We went in to check on him, when I was getting ready for school that morning and I just happened to notice he was lying in quite a weird position on his bed.
"He just didn't look normal, and eventually I went over to him and realised that at that point he was dead, he wasn't breathing."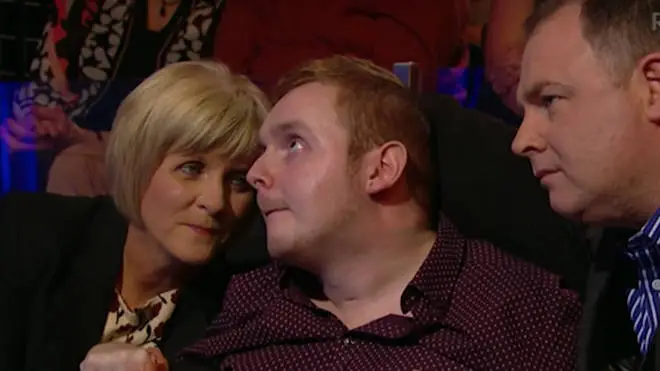 Using CPR to revive him, Mark and his father managed to get Declan to a hospital – but his brain had already suffered irreparable damage.
Locked-in Syndrome is a rare motor disability that occurs when a part of the brainstem is damaged, causing most of the body and facial muscles to be paralysed.
Watch the next episode of Britain's Got Talent on ITV this Saturday 11 May, at 8pm.