Kelsey Grammer: 'I didn't quite have the juice to become an opera singer'
8 June 2016, 14:52 | Updated: 13 June 2016, 09:56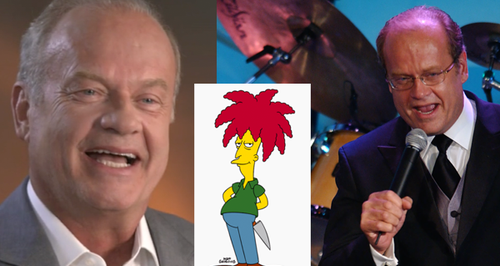 The Frasier star told Classic FM he loves Bach, Beethoven – and grunge music.
He's best known for playing the psychiatrist Dr. Frasier Crane in the US sitcoms Cheers and Frasier, and as the voice of Sideshow Bob in The Simpsons, but Kelsey Grammer started out thinking he might become a singer.
As a 14 year old, the award-winning actor had a music teacher at school who put all the boys into choirs.
"It was an extraordinary transformation he made of the student body," Grammer told Classic FM's Charlotte Green. "He was a terrific fella."

After taking voice lessons, Grammer revealed that he "just didn't quite have the juice to become an opera singer." (As Sideshow Bob, he did sing the whole of Gilbert and Sullivan's HMS Pinafore. See below.)
Watch Kelsey Grammer speaking to Charlotte Green, here:
Grammer, who is currently appearing in the British comedy Breaking the Bank, says he doesn't have much time for the music of today, although he did love 'grunge' – bands like Nirvana and Pearl Jam that emerged in the late 1980s. "I thought those guys were playing beautiful music," Grammer says.
But his first loves were Bach, Beethoven, Haydn and Brahms. "I connected to their music in a way that it moved me and so it became important to me."
The actor also revealed that he plays several musical instruments, but "none of them well."

The piano, though, is his best instrument: "It's contemplative for me. It's an avocation, rather than anything I make a living out of," he told Charlotte Green. "I love it."
Kelsey Grammer talks musical loves:
Listen again to Kelsey Grammer with Charlotte Green >
This is the memorable moment when Kelsey Grammer as Sideshow Bob brought G&S to The Simpsons: