Watch the carol for MP Jo Cox performed by the Parliament Choir
8 December 2016, 17:07 | Updated: 12 December 2016, 16:00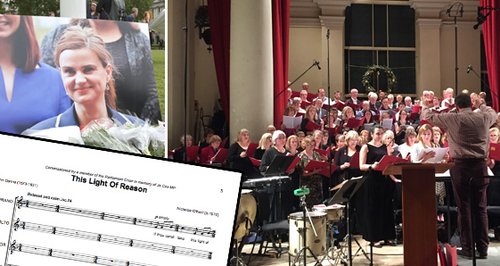 'This Light of Reason' is a touching choral tribute to Jo Cox - and it was premiered by her former parliamentary colleagues last night.
This Light Of Reason is a new choral work commissioned by a member of the Parliament Choir to commemorate the life of Jo Cox, the MP for Batley and Spen who was murdered in June on the way to a constituency surgery. The murder was seen as an act of terrorism against a woman who had campaigned tirelessly for refugees by a local man with far-right sympathies.
Composed by Nicholas O'Neill, the Parliament Choir's composer-in-residence, the first performance of This Light Of Reason took place last night in the beautiful setting of St. John's, Smith Square.
Here's the Parliament Choir rehearsing the piece ahead of their Christmas concert
And you can hear the whole concert on Classic FM on Thursday 15th December at 8pm.
The work sets words from John Donne's essays on Light Of Reason and Divine Knowledge to music.
Explaining his inspiration for the carol, O'Neill said: "Mentioning Jesus's family's flight into Egypt, and thus reflecting Jo's work with refugees, Donne's words communicate a message specific to Jo, her life and her work, but are also universal in their exhortation to hold up a little candle against darkness and not to be swayed by the 'great lights of worldly men'.
"Although Donne's text is particularly suited to Advent and Christmas, the message is also appropriate for other occasions in the year, especially Candlemas and Epiphany, and it is hoped that its universal message will encourage other groups to consider the work for their repertoire."
Four further performances have already been confirmed for 2016, with others due in 2017.
The composer would like as many people to hear and perform the piece as possible – so you can download the piano score of the piece here.