This is what it looks like when you send electric shocks through a musician's body
9 February 2016, 10:35 | Updated: 5 January 2017, 14:32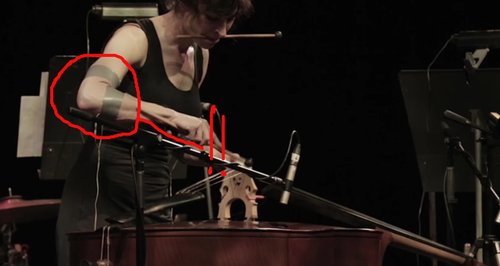 This composition sends by Michaela Davies sends electric shocks through a performer's body to alter their performance.
As you can see, it turns the performer's arms into juddering percussive mallets, playing across a double bass laid on its back:
A New Musical Masochism from Michaela Davies on Vimeo.
According to Davies' website, this piece (called 'A New Musical Masochism') creates "…an environment for structured improvisation is created where the performer's movements are dictated by electric shocks sent to her muscles, which force her limbs to move involuntarily."

"A MIDI controlled electric muscle stimulation device sends electrical impulses to the performer's muscles via electrodes attached to the skin, forcing the muscles to contract and move involuntarily, at varying velocities."

She's done a whole load of weird stuff like this, including duets where musicians' actions are governed by the movements of a goldfish. We approve. More here.