Two awesome choirs bumped into each other in a bar and this incredible performance just happened
5 February 2016, 09:52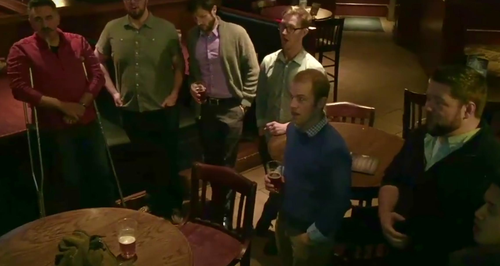 Like the beginning of a joke, but better: two top-flight choirs walked into a bar, and belted out this classic Ave Maria.
Male vocal ensembles Chanticleer and Cantus were both passing through Virginia and decided to meet up.

Of course, you can't have these two ensembles meeting up and NOT have them sing a little something together, can you? Before long, they were belting out a gorgeous rendition of Franz Biebl's Ave Maria.

Oh, to be a barfly on that night…
Here's what happens when two of America's premiere male ensembles, Cantus & Chanticleer walk into a bar... #Biebl #Canticleer #Chantus

Posted by Chanticleer on Thursday, 4 February 2016
Reading this on the Classic FM app? Watch the video here.
And here's a lovely photo of them all, presumably after drink had been taken: