BGT children's choir moves audience to tears with musical plea to save the planet
5 May 2020, 12:35
As climate change continues to pose a threat to our precious planet, these children are harnessing the power of music to make a stand.
A children's eco choir has brought audiences and judges to tears on Britain's Got Talent after making an urgent musical plea for grown-ups to save planet Earth.
The moving audition took place on ITV's popular talent show last weekend as the choir of four to 16-year-olds gathered together to perform the sweet song, 'S.O.S. From The Kids', in an attempt to call out destructive behaviour.
In the video (watch above), we hear the adorable ensemble sing: "All the grown-ups take note of this... You can't leave the world in fire and draught... Please change the story... This beautiful Earth cannot be lost."
With their colourful drawings of bees, turtles and polar bears, and signs encouraging adults to "Act now" and "Say no to plastic", the choir's environmental mission is loud and clear.
Read more: Britain's Got Talent: Who are the Chineke! Junior Orchestra on the TV show? >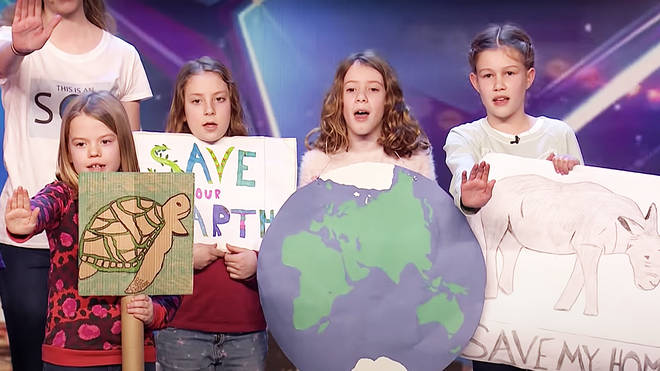 Inspiring people with his powerful solo, 12-year-old Sim Macaulay from Liss, Hampshire, sings his heart out on the words: "Don't listen to the fat cats, they only want their cream. Always need oil, for feeding their machines."
Two girls add: "I'll need help from you, you get help from me" – and their touching words are enough to make BGT judges Simon Cowell, Amanda Holden, Alesha Dixon and David Walliams well up.
Bringing the beautiful performance to a close with a final message of hope, the children sing: "We can do better than this".
The idea to write the song came after Sim and his brother, Noah, watched David Attenborough's nature documentary, Climate Change – The Facts and decided they were keen to help.
Teaming up with their mum, Dorry Macaulay, and cousin, Coen Baines, the brothers recorded the touching tune and before long, other kids in the local area had joined them.
Lewis Jamieson, a spokesperson for Music Declares Emergency told Euronews Living: "To see a group of children transmit a message of action and hope to a massive TV audience is a wonderful thing. All power to them."
Also competing on Saturday's show was British ensemble, the Chineke! Junior Orchestra, who auditioned with a rousing medley that earned them a standing ovation.
The performance (watch above) included an epic intro of Strauss' Also sprach Zarathustra, an energetic cover of Beyoncé's pop hit 'Crazy in Love', a heartfelt rendition of John Legend's 'All of Me' and Grieg's 'In the Hall of the Mountain King', among other well known tunes.
The next episode of Britain's Got Talent will be broadcast on ITV this Saturday 9 May at 8pm BST.