Here are some cute birds making a guitar drone symphony
15 January 2016, 11:57 | Updated: 15 January 2016, 14:21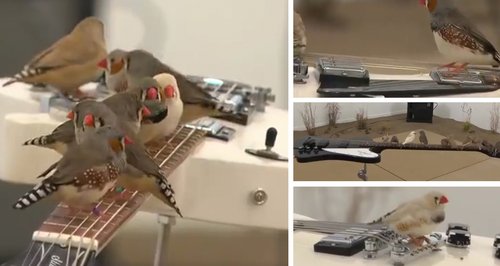 An art installation has put some plucky birds in charge of a load of electric guitars, and it sounds quite amazing.
The brainchild of Céleste Boursier-Mougenot, the installation takes place in a large single room, set up with some electric guitars and amplifiers with the gain turned up. The installation was previously at London's Barbican centre.

A flock of zebra finches were then unleashed to live in the room, landing on the strings and inadvertently creating some quite incredible sounds.
We think it's a natural successor to the hallowed genre of non-programmatic indeterminism, a hybrid of Charles Ives and Glenn Branca, with an ambience keenly inspired by John Cage's 'New Aspect of Form in Instrumental and Electronic Music'.

Or, you know, a bunch of birds flapping about in an art gallery.
Viewing this on our app? Get the whole video here.