This beginner violinist recorded every step of her progress in an inspirational two-year time-lapse video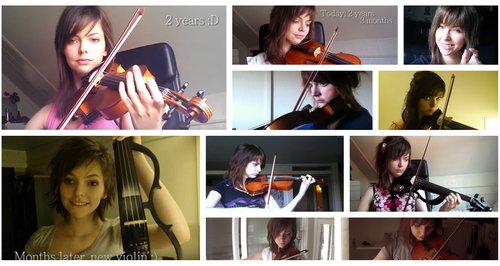 A 24-year-old YouTuber shows how a little bit of practice every day can take you from Happy Birthday to a virtuosic Bach Toccata.
A recent video has proved that learning an instrument, even as an adult, is all about those small steps and sticking with it. 'Violin Noobie', a YouTuber from Norway, documented her progression a brand new instrument, the violin.

She has edited together a series of short videos - from week 1 to 2 years, 3 months - to create a mammoth time-lapse of her musical journey.

'Violin Noobie' says she was mostly self-taught, with only 8 formal lessons in her first year. The videos show the early days of Silent Night and Ode to Joy, a number of famous melodies as her playing and intonation becomes more assured, we get Super Mario Bros theme, and finally some commanding film scores and a virtuosic transcription of Bach's Toccata and Fugue in D minor.

We also see her journey through a number of instruments: acoustic and electric, some fretted, some colourful.

Her YouTube video of her progress is providing inspiration to others too - in six months it's had over 1.2 million views. Here's hoping it encourages other new players to put in that regular practice.
Side note: we think she has an awesome house.