Classic FM's new weekend line-up results in impressive increase in listeners
4 August 2016, 00:01 | Updated: 4 August 2016, 14:44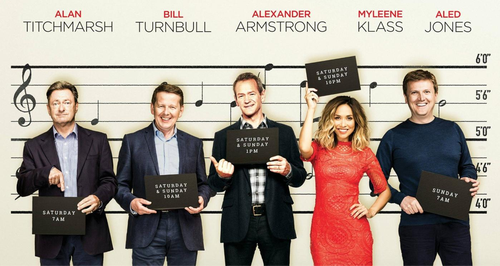 Latest listening figures show that more people are tuning in to Classic FM at the weekends, and for longer - and the station's online reach is bigger than ever.
More than 5.5 million people each week are now listening to Classic FM – and our weekend stars, including new recruit Bill Turnbull, are shining. Bill is reaching some 959,000 people every Sunday, up 90,000 on the year. Meanwhile, Classic FM's digital reach has also hit a record high.
Our weekday line-up is also hitting new heights. John Suchet now attracts 2.7 million listeners, an increase of some 388,000 in the last three months alone. Classic FM's More Music Breakfast with Tim Lihoreau remains the UK's biggest commercial radio breakfast show, heard by more than 1.7 million listeners each week, putting on almost 75,000 listeners since the same period last year.
Click here to view Classic FM's Schedule >
2.5 million people now listen to Anne-Marie Minhall on Classic FM between 1pm and 5pm during the week, while Classic FM Drive with John Brunning reaches more than 1.9 million people – an increase of more than 100,000 since the spring of 2015.

Smooth Classics with Margherita Taylor has 829,000 listening, rising 119,000 in the last three months alone. Listeners are also tuning in for much longer.
Classic FM's new Saturday breakfast show, 7-10am, hosted by Alan Titchmarsh has 842,000 listeners – up by 93,000 on the quarter, and 42,000 on the year. On Sunday mornings, meanwhile, Aled Jones broadcasts to 808,000 people with his three-hour breakfast show – up 81,000 on the quarter, and 34,000 on the year.
Alexander Armstrong is also proving to be a big hit at the weekends: 576,000 people are listening to his Saturday show, up 43,000 on the year.

Nicholas Owen's Saturday afternoon audience has more than half a million listeners, followed by Saturday Night at the Movies with Andrew Collins which has increased its numbers by 50,000, reaching 461,000 every week.

David Mellor has increased his Sunday night audience by 78,000 while Myleene Klass has posted an audience increase of 20% in the last three months alone for Smooth Classics on Saturday nights. Her Sunday audience is also up 18% on the quarter.
Classic FM's digital reach also hit a record high in July following the launch of our brand new app in January.
Over 2 million people visited ClassicFM.com last month, while the station continues to be one of the UK's most engaged radio brands on Facebook, reaching over 36 million users worldwide with 5 million of those in the UK. Nearly half of Classic FM's Facebook followers are aged under 25.
Follow Classic FM on Facebook >
Download the new Classic FM app >
Classic FM's Managing Editor Sam Jackson said: "Our fresh weekend schedule has helped to cement Classic FM's position as the UK's most popular classical music radio station. I'm particularly encouraged that our audience of under-25s is up by 60,000, to more than 470,000 people – proof that we're making classical music relevant to audiences of every generation."