'The airline is dodging responsibility', says owner of a smashed viola da gamba
6 March 2018, 17:09 | Updated: 6 March 2018, 17:33
After a United Airlines flight during which his viola da gamba was badly damaged, the owner is calling on airlines to make their instrument policies more consistent.
International early music performer Andrew Arceci was flying with United Airlines from Boston-Logan to Baltimore-Washington International Airport in the US, on Friday 26 January, when his viola da gamba and its case were badly damaged.
Andrew was told by two United Airlines employees he could not proceed to security or gate with his instrument, and was forced to check it in at Boston-Logan airport. When he arrived at his destination, the viol and case were severely damaged.
"As I was picking up the instrument at [Baltimore airport], the strap broke. However, 1-2 feet from the floor would not cause the damage suffered to the case (the clasp was broken) and the instrument. It was clearly mishandled," Andrew says.
"The instrument, like some guitars, actually fits overhead on several planes; pending the aircraft, design of the interior, etc. However, I've gate-checked for years. The case is custom built, and always well packed. I've travelled the world with this case and instrument. I've never had a problem, until United."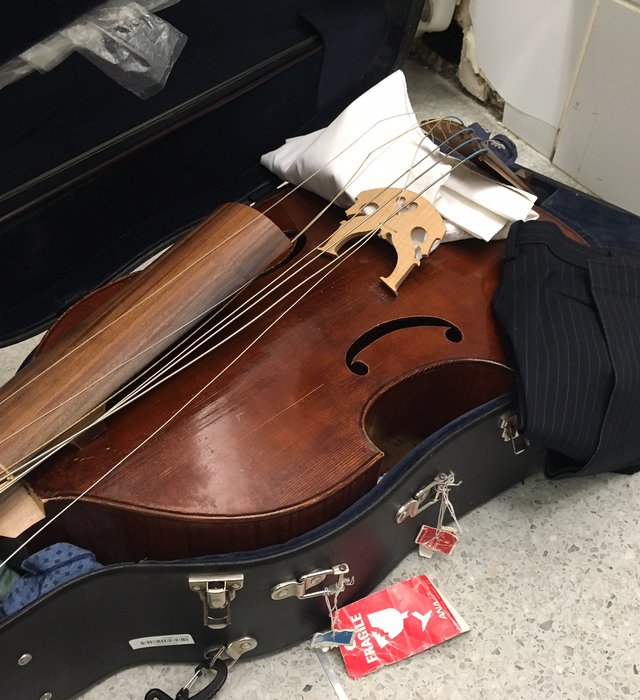 "I don't deny the strap broke when picking-up the instrument at BWI [Baltimore-Washington International Airport]. However, 1-2 feet from the floor would not cause the damage suffered to the case (the clasp was broken), and resultantly, the damage suffered to the instrument. It was clearly mishandled; it seems United is trying to 'dodge' responsibility.
"When I filed the claim at BWI, the agent's tone was appalling. I've communicated with other United employees since; most have been despicable, each with a uniquely disdainful tone.
"It was really their rudeness, and clear disregard, that prompted sharing the story with friends and colleagues.
"The larger issue here, is that airports, airlines, and security checkpoints have varied policies, making it wildly difficult to travel regularly. Too much is left to the ticket agent's mood, the security agent's mood, etc. Employees with the same airline may state different polices from one airport to the next. There's simply a lack of consistency to flying with an instrument."
United Airlines have responded to the complaint, saying, "We understand our customer's frustration and we are undertaking a full review of his claim. We have reached out to our customer to discuss his concerns and come to a resolution."
Andrew's story is one of a series of recent incidents involving instruments being damaged by airlines, including another 17th-century viola da gamba which was destroyed on an Alitalia flight, and a viola which was dented during an incident at Dublin's airport security.