This police officer turned his baton into a flute – and we're genuinely impressed
29 May 2019, 15:34 | Updated: 29 May 2019, 17:18
If you thought police tools were incapable of producing trills, think again as this music-loving officer transforms his baton into a musical instrument…
Ever wondered what the police get up to when they're not busy fighting crime?
For one imaginative officer in Karnataka, India, he loves nothing better than to play folk songs in his spare time – using his police baton.
Chandrakant Hutgi's job often requires him to work long hours, so to keep himself (and his colleagues) amused, he decided to transform his work tool into a flute.
He told Business Standard: "Making musical instruments and playing them have been my hobby for so long.
"I turned the fibre lathi, given to me for policing, into a flute to play folk songs when free from work.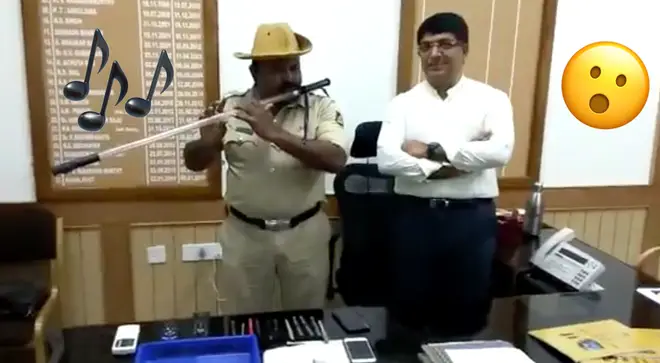 "To kill boredom or break monotony, I play the flute and entertain my colleagues after duty hours."
And his musical efforts haven't gone unnoticed.
After sharing a video of himself playing an enchanting melody on the makeshift flute (watch above), Hutgi quickly received special recognition for his innovation.
To commend him for his talent, the Additional Director General of Police, Bhaskar Rao, in Bengaluru awarded him a generous sum of money – and he's become quite the celebrity in his local town too.
Touched by the response, the music-loving officer commented: "Since the video clip went viral earlier in the day, I have been getting calls from colleagues, friends and relatives and congratulatory messages."
Here's what flute fans on social media had to say:
Sir, its great to see a senior officer like you giving importance to the talent of your team member! Its really motivational.

— Jawad (@jawadtweets) May 28, 2019
Good move , at last police is also a human with feelings ,skills and innovation ....BhaskarRao sir you are a good leader by motivating your team memeber skill and spreading on social media 👏👏👏🙏

— Srikrishna. (@sri16587) May 28, 2019
Yeh mera India! I love my India... it's wonderful how you are using twitter to not only encourage your team, and share with us, promote good vibes! Proud Indian today..#music #stress

— Deepa (@DeePra6) May 28, 2019
Excellent work, Hutgi.