New Zealand earthquake: heartbreaking video shows damage to Wellington Cathedral organ
14 November 2016, 09:37 | Updated: 11 January 2017, 14:26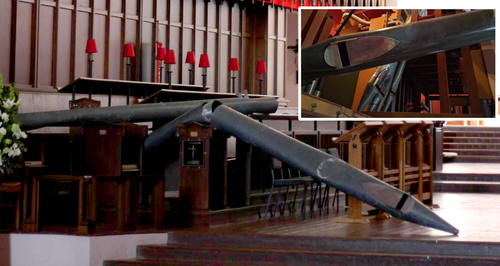 The 7.5 magnitude earthquake hit just after midnight local time today near the town of Kaikoura northeast of Christchurch, killing two people.
Aftershocks continue to hit the South Island and communities have been cut off by landslides and left without power or water supplies.
In Wellington, the Cathedral of St Paul suffered minimal damage, but the organ, parts of which date from 1877, is no longer playable and has suffered "significant damage", according to director of music Michael Stewart. The video above shows how the pipes have been left broken and scattered. Work has been carried out to secure the loose pipework.
The music on the video is a performance of Barber's Adagio for Strings recorded the day before the earthquake.
Stewart told the Dominion Post that the organ, worth millions of dollars, is likely to be out of action for months: "The large pipes caused a lot of damage. We're very lucky that this did not occur at another time and that no-one was hurt.
"It's too early to say how much it will cost to repair the organ. Some parts will be salvageable, other parts are completely destroyed, bent out of recognition."
Classic FM was at Wellington Cathedral of St Paul last year and recorded the video below of organist Richard Apperley interweaving some Christmas carols into Star Wars themes. Enjoy the organ in full voice in happier times: