Netflix is releasing a Eurovision movie with Will Ferrell - and we're just a little bit excited
9 August 2019, 13:11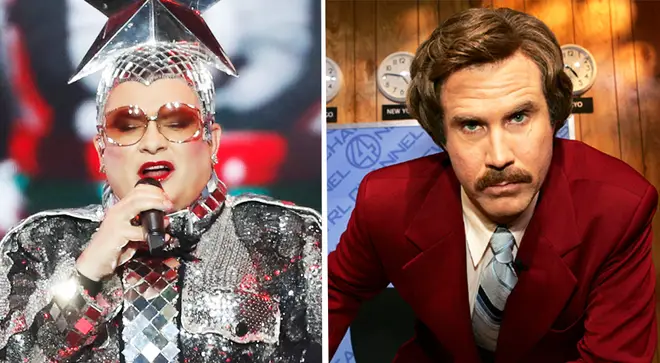 Poking fun at Europe's melodramatic song contest, Netflix's 'Eurovision' also stars James Bond actor Pierce Brosnan and Mean Girls' Rachel McAdams.
Netflix has just announced a new comedy starring Will Ferrell, Pierce Brosnan and Rachel McAdams – and it's a spoof of the most loved (and somewhat ridiculed) song contest in Europe's history: Eurovision.
First televised in 1956, annual competition The Eurovision Song Contest (better known as Eurovision), gives participants the chance to represent their country with a *somewhat dramatic* musical performance, and more than 50 countries are now eligible to compete.
But as most people will know, today Eurovision is less of a song contest and more of an excuse to entertain the masses – often in rather hilarious, and pretty bizarre, ways.
Cue award-winning American actor and comedian, Will Ferrell, who co-wrote the script for Netflix's forthcoming film and is set to play a leading role as struggling Icelandic musician, Lars Ericksson, who is selected to compete in the competition.
Having played humorous characters in a number of other hit movies – including Elf, Wedding Crashers, Blades of Glory and Anchorman: The Legend of Ron Burgundy, he's clearly the best person for the job.
Ferrell is also a self-confessed fan of Eurovision after his wife introduced him to the contest in 1999, and was even spotted hanging out at the event in Lisbon in May last year.
TOP 10: Most watched in July 2019 - Eurovision Song Contest
Joining Ferrell in the cast are James Bond actor Pierce Brosnan, who is set to play Erik Erickssong – the "most handsome man in Iceland" and father of Lars Erickssong – and The Note Book's Rachel McAdams, who plays aspiring musician, Sigrit Ericksdottir.
In Netflix's synopsis for the film, they are 'given the opportunity of a lifetime to represent their country at the world's biggest song competition' and 'finally have a chance to prove that any dream worth having is a dream worth fighting for.'
Music and film fans have been taking to Twitter to share their excitement (mixed with a little bit of disdain) over the announcement:
Oh my god, it could either be the best or the worst. I just hope it's made by people who love Eurovision!

— Siobhán Hearne (@siobhanhearne) August 8, 2019
Directed by Wedding Crashers' David Dobkin, Eurovision is currently in production in the UK and in Iceland.
An official release date is still to be announced.