Syrian clarinettist, resident in the US for 16 years, affected by travel ban
30 January 2017, 13:24 | Updated: 30 January 2017, 13:25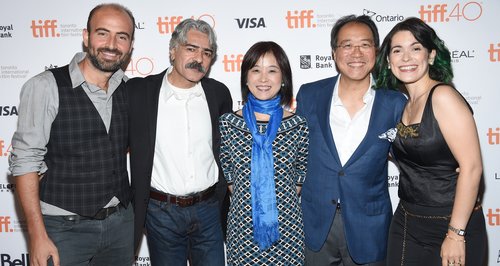 Clarinettist Kinan Azmeh, who regularly performs with cellist Yo-Yo Ma, has said he's unsure if he'll be allowed to return, despite living in the US for 16 years and holding a green card
Photo: l-r, musicians Kinan Azmeh, Kayhan Kalhor, Wu Man, Yo-Yo Ma and Cristina Pato. Getty
Kinan told the Associated Press "I have my apartment. You know, 16 years is not a short time, you accumulate lots of stuff. But what is not replaceable is all the friends who are incredibly supportive."
Kinan, who grew up in Damascus, Syria, before studying in the US, is currently on tour and recently performed in Germany's new Elbphilharmonie in Hamburg.
He was given an EB-1 visa for 'extraordinary ability' and also holds a green card.
While Kinan has been on tour, President Trump signed an executive order to refuse entry to citizens of Syria, Iran, Iraq, Libya, Somalia, Sudan and Yemen.
Kinan said he was "holding on to the optimist in me" but that he didn't have a Plan B if he was refused entry.
He also posted a 'protest piece' on Facebook, saying: "I wrote this little protest piece at JFK airport in New York in 2005 while waiting to be questioned at border control. Never imagined that the story of this piece will continue to be relevant 12 years later to millions of people who have a "different" passport at any borders control in the world."
The London-based Kazakh violinist Aisha Orazbayeva has also cancelled her tour of the US saying "Why can I enter when Syrians can't? What's the difference? They seek help & I entertain"
Cancelling concerts in US because of the #MuslimBan. Why can I enter when Syrians can't? What's the difference? They seek help & I entertain

— Aisha Orazbayeva (@AishaOrazbayeva) January 28, 2017