A musician was asked to play for free in return for Facebook likes
14 June 2017, 12:19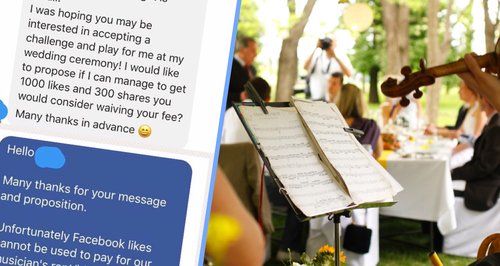 'I was hoping you may be interested in a challenge… I would like to propose if I can manage to get 1000 likes and 300 shares you would consider waiving your fee?'
As we approach wedding season, there is an increase in demand for musicians to play for couples on their special day.
We occasionally hear of musicians being asked to play for free at celebrity weddings in exchange for 'media coverage'. However, this particular occurrence is a first for us.
A string quartet has been asked to play at a wedding if the to-be-wed can get 1000 likes and 300 shares for the quartet's Facebook page:
The message reads: "I am very interested in your fantastic quartet, but unfortunately my budget is small! I was hoping you may be interested in a challenge and play for me at my wedding ceremony! I would like to propose if I can manage to get 1000 likes and 300 shares you would consider waiving your fee?"
However, one member of the quartet fired back with this excellent response:
"Unfortunately Facebook likes cannot be used to pay for our musician's rent/bills etc so I'm sorry to say we are unable to waive our fee at this time."
We wonder if the hotel, dressmaker, caterer and photographer accepted Facebook likes and shares as payment for their services? We're guessing not...