Children should have more experience playing music, say half of UK adults
1 August 2017, 09:46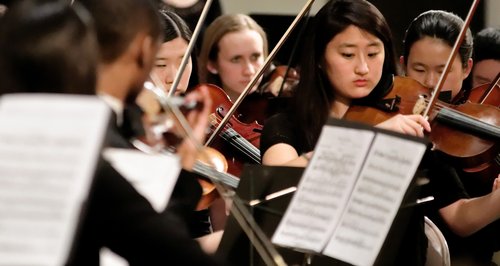 In a survey carred out by YouGov, 47 per cent of people surveyed said more children should be inspired to learn an instrument and have experience playing music.
The research, which was commissioned by Town Hall and Symphony Hall Birmingham, also found that 39 per cent of UK adults thought music should feature more prominently on the school curriculum.
By contrast only 11 per cent thought 'classical music is too often dumbed down'.
There was a difference in opinion across the generations: the percentage of people who thought music should be taught more at school rose to 50 per cent in the over 55s.
Meanwhile, 37 per cent of under 25s said 'elitist language and traditions that make it appear aloof need to end' (across all age groups 33 per cent of people agreed with this statement). Almost a third of the respondents in this age group also said classical music 'needs to have greater appeal to a multi-cultural society / ethinic minorities.'
Two fifths of people who responded to the survey said they thought 'concerts need to be performed outside stuffy concert halls and in more everyday places'.
A total of 2,023 people were surveyed online by YouGov.
Richard Hawley, head of artistic programming at Town Hall Symphony Hall, Birmingham, who ordered the research, said:
"Far from being a mainstream nonentity, people do really seem to care about classical music having a future, which is encouraging. There are changes that need to be made, and we at THSH believe now is the time to take risks and be brave. We take all of our audience's opinions seriously, but particularly those of people under 25 who'll be running the show before we know it."