Sixteen-year-old Ziyu He wins Menuhin Competition senior category
18 April 2016, 10:35 | Updated: 18 April 2016, 11:58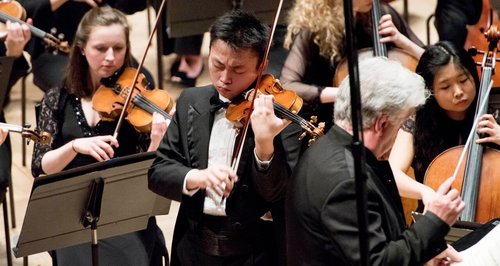 The Chinese youngster has taken first prize in the senior category of the prestigious biennial competition. Yesong Sophie Lee was named best junior.
Ziyu He from China, aged just 16, has been crowned Senior First Prize Winner at the Menuhin Competition London 2016. He beat off stiff competition from Yu-Ting Chen (20, from Taiwan), Jeein Kim (20, from South Korea) and SongHa Choi (16, from South Korea).
As first prize-winner Ziyu wins a year-long loan of a Stradivari violin (the 'Schneiderhan' from 1715) and £10,000. Here he is in action:
As the junior winner, Yesong Sophie Lee from the USA wins a year-long loan of a Guarneri violin made around 1740, as well as £5,000. The four other junior finalists were Kevin Miura (aged 13, from USA/Japan), Johan Dalene (15, from Sweden), NaKyung Kang (12, from South Korea) and Anne Luisa Kramb (15, from Germany).
Here's part of her prize-winning performance:
The competition, which takes place every two years, is one of the most famous music competitions in the world. And this year the competition coincided with the centenary of its founder, the great violinist Yehudi Menuhin.
The jury at this year's competition included former winners Julia Fischer, Ray Chen and Tasmin Little as well as Yehudi Menhin's son, pianist Jeremy Menuhin.
The next Menuhin Competition will take place in Geneva, Switzerland in April 2018.