Mamma Mia 2 soundtrack is set to be No. 1 album, overtaking The Greatest Showman
25 July 2018, 11:55 | Updated: 30 July 2018, 11:56
Following Mamma Mia! Here We Go Again's hugely successful opening weekend at the box office, the soundtrack is set to take the no. 1 spot in the album charts this weekend.
After Mamma Mia! Here We Go Again came out in cinemas last Friday (20 July), The Official Charts Company has revealed the soundtrack album is set to top the charts this Sunday.
The album, which contains ABBA songs 'Dancing Queen' and 'My Love, My Life', will overtake The Greatest Showman, which peaked at No. 1 for 21 weeks and has been in the top three for 30 weeks.
Mamma Mia 2: every actor's singing, ranked from worst to best
Meanwhile, the original Mamma Mia! soundtrack is on track to be at No. 5, meaning we could be seeing three musical soundtracks in the top five.
Since the soundtrack album's release, ABBA sales have gone up by 57 per cent, with the band's popular compilation album Gold set to appear at No. 7.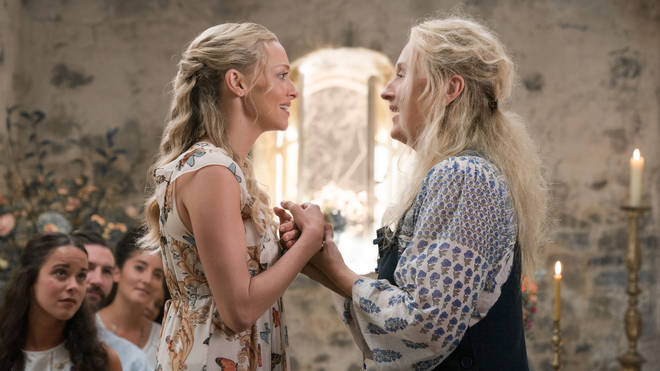 See the full tracklist of Mamma Mia! Here We Go Again below.
1. When I Kissed the Teacher - Lily James, Jessica Keenan Wynn, Alexa Davies and Celia Imrie
2. I Wonder (Departure) - Lily James, Jessica Keenan Wynn and Alexa Davies
3. One of Us - Amanda Seyfried and Dominic Cooper
4. Waterloo - Hugh Skinner and Lily James
5. Why Did It Have to Be Me? - Josh Dylan, Lily James and Hugh Skinner
6. I Have a Dream - Lily James
7. Kisses of Fire - Panos Mouzourakis
8. Andante, Andante - Lily James
9. The Name of the Game - Lily James
10. Knowing Me, Knowing You - Jeremy Irvine, Lily James, Pierce Brosnan and Amanda Seyfried
11. Angel Eyes - Christine Baranski, Julie Walters and Amanda Seyfried
12. Mamma Mia - Lily James, Jessica Keenan Wynn and Alexa Davies
13. Dancing Queen - Colin Firth, Stellan Skarsgard, Amanda Seyfried, Christine Baranski, Julie Walters and Pierce Brosnan
14. I've Been Waiting for You - Amanda Seyfried, Christine Baranski and Julie Walters
15. Fernando - Cher and Andy Garcia
16. My Love, My Life - Amanda Seyfried, Lily James and Meryl Streep
17. Super Trouper - Cher, Meryl Streep, Christine Baranski, Julie Walters, Pierce Brosnan, Colin Firth, Stellan Skarsgard, Andy Garcia, Amanda Seyfried, Dominic Cooper, Lily James, Jessica Keenan Wynn and Alexa Davies
18. The Day Before You Came - Meryl Streep