Laura Bretan's singing technique 'raises deep concerns' says singing teacher
14 September 2016, 14:08 | Updated: 28 June 2017, 09:32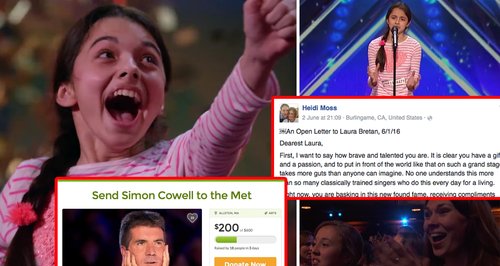 A 14-year-old singer has wowed America's Got Talent with performances of 'O Mio Babbino Caro' and 'Nessun Dorma' – but some in the classical world have a very different view. Opera singers and music specialists have voiced concerns over a promising young singer forcing herself to mimic much older voices.
Since the clip of Laura Bretan performing Puccini's Nessun Dorma in the early rounds of America's Got Talent appeared online earlier this year, it has been viewed millions of times.
Bretan, now aged 14, followed up in later rounds of the talent show with performances of 'Pie Jesu' and 'The Prayer' – made famous by Josh Groban, Andrea Bocelli and Celine Dion. These performances also drew gushing praise from the judges.
A professional soprano's view of Laura Bretan's operatic technique >
In last night's grand final, Bretan sang 'O Mio Babbino Caro', the soprano's aria from Puccini's opera Gianni Schicchi. Once again, the judges were impressed. Cowell said: "This is ridiculous, how old are you? You perform with such passion and you pace yourself and you always hit that big moment, and I'm sitting here thinking you can't really be 14." Watch the performances below:
Laura Bretan sings 'O Mio Babbino Caro'
Laura Bretan sings 'Pie Jesu'
Laura Bretan sings 'The Prayer'
Laura has already won Romania's Got Talent and is now through to the final rounds of America's Got Talent. But it's fair to say Laura has divided the classical music world.
Here's the Puccini clip that kicked off the controversy:
While some cheered to see classical music reaching a mass audience – and to see millions of people sharing and enjoying Puccini's music, others raised concerns over Laura's technique and her choice of repertoire.
An open letter from an opera singer
Opera singer Heidi Moss wrote an open letter to the young singer on Facebook saying: "There are things I heard in your sound that concern me. True classical training takes years of hard work, and forcing a sound that isn't truly your own is dangerous.
"Over time, the irritation of singing that way can cause swelling or even worse, nodes or popped vessels."
A singing teacher's point of view on Laura Bretan
Claudia Friedlander, a voice teacher from New York, took a more positive approach in an article on her blog and published in Classical Singer Magazine. She said: "Bretan delivered an earnest, authentic outpouring of passion, and she allowed it to flow through her voice with steadfast courage and commitment…
"But a young singer's instrument is not yet even a fair facsimile of the voice they will late access as an adult. Thus there can be no true operatic prodigies. The young voice simply has not physiologically matured to the point that it is capable of projecting a healthy, balanced sound over an orchestra.
"This is why Bretan's performance raises such deep concerns for experienced opera singers and voice teachers. She possesses both a promising voice and strong musical instincts, but most of the sounds she is producing are the result of effortful, unsustainable manipulations of a body that is not yet mature enough."
Are they just jealous?
But Claudia goes on to say that jealousy may partly account for the classical world's knee-jerk negative reaction to Laura's performance – after all, this clip has made the news around the world precisely because it's rare to see an audience react so enthusiastically to a performance of an opera aria.
She asks: "Does our desire to correct Bretan's fans about the nature of opera make us snobs?"
Meanwhile, one opera fan has started a crowd-funding campaign to raise money to 'Send Simon Cowell to the Met'…
Whatever issues her voice raises, we wish nothing but success and excellent singing experiences for Ms Bretan - we will be watching her career with interest!