Donald Trump punched his music teacher in the face as a child
21 July 2016, 16:33 | Updated: 21 July 2016, 16:34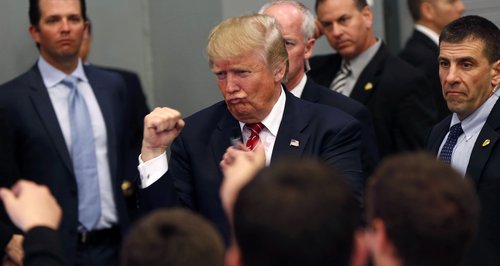 Presidential candidate said his teacher 'didn't know anything about music'.
The Republican Party nominee in this year's US Presidential elections is known for expressing himself forcefully. And it seems that's nothing new.
In his 1987 book The Art of the Deal, Trump wrote:
"In the second grade I actually gave a teacher a black eye — I punched my music teacher because I didn't think he knew anything about music and I almost got expelled."
Read Donald Trump's tweets on classical music
The book, which he co-wrote with Tony Schwartz, also goes some way to explaining the young Trump's actions.
"I'm not proud of that, but it's clear evidence that even early on I had a tendency to stand up and make my opinions known in a very forceful way," Trump wrote.
"The difference now is that I use my brain instead of my fists."


The music teacher's verdict
Trump was later removed from Kew-Forest School in Forest Hill NY by his father and sent to a military school to "correct poor behaviour."
However none of Trump's schoolmates – who nicknamed him 'The Trumpet' – remembers the incident.
And his music teacher, Charles Walker, who died last year, denied ever being punched.

When Walker heard that Trump was considering running for US President, he told his family gathered around his bed, "When that kid was 10, even then he was a little s**t."