We're at the Montreal International Piano Competition, and the talent is blowing our minds
10 May 2017, 16:49 | Updated: 12 May 2017, 13:40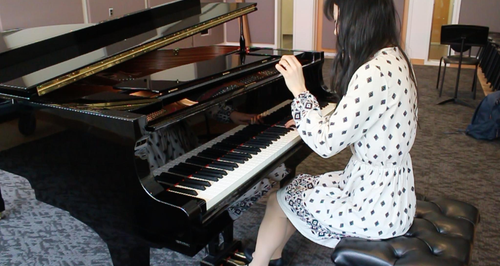 The final round of the Montreal International Piano Competition is underway, with the second of two legs taking place tonight in the city's Maison Symphonique.
We were lucky enough to be hanging around backstage during rehearsals for the final rounds, and grabbed a few moments with some of the finalists to see exactly why they've made it this far in the competition…
After a tense and impressive final, the winner of the 2017 Montreal International Piano Competition has been confirmed: Hungarian Zoltán Fejérvári stormed to the winning position after a winning performance of Bartók's Piano Concerto No. 3. Fejérvári wins a total of $80,000.
Here he is playing some Bach for us earlier on the day of the final, inbetween rehearsals:
Giuseppe Guarrera's performance of the Tchaikovsky Piano Concerto No. 1 brought life to an old favourite in the first leg of the final – but the 25-year-old Italian also does a pretty mean Bach, as you can see:
Albert Cano Smit was one of the youngest competitors in the competition and gave the Brahms Piano Concerto No. 1 a suitably youthful lilt. When we grabbed him backstage, he was only too happy to show us what he can do with Bach:
South Korea's Yejin Noh is due to play Tchaikovsky's legendary Piano Concerto No. 1 (a popular choice in the competition) for her final performance - here's a sneak preview of what's in store:
21-year-old Jinhyung Park took on the mighty challenge of one of history's greatest piano concertos in his final performance in Montreal - Rachmaninov's Piano Concerto No. 2. But backstage, he treated us to some thrilling Debussy, specifically a movement from his 'Images' for piano: