Michael Caine: 'I was the first ever person to hear Goldfinger'
28 January 2016, 14:12 | Updated: 28 January 2016, 15:07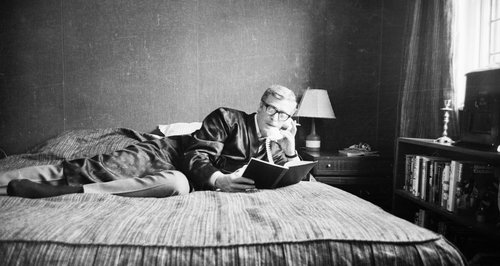 The veteran actor reveals to Classic FM that composer John Barry, with whom he shared a house, kept him up all night working on the legendary Bond song.
Sir Michael Caine was the first person ever to hear the iconic James Bond song, Goldfinger.
On this week's Saturday Night at the Movies (Saturday, 5pm), the veteran British actor reveals that composer John Barry kept him awake one night as he worked on the theme for the 1964 movie.
Barry was putting Caine up for six weeks when he was between leases on his lodgings.
Sir Michael says that he was grumbling, trying to sleep while Barry sat composing at the piano downstairs.
"I came down in the morning and he was sitting there absolutely exhausted and said, 'I've got this tune for the Bond what do you think of it?' And he played Goldfinger. I said it's fantastic," Caine tells Classic FM presenter Andrew Collins.
The vinyl single of the song, performed by Shirley Bassey, went on to sell more than a million copies in the United States. It also reached No.1 in Japan and the Top Ten of many European countries.
Hear Sir Michael Caine talking about how Goldfinger was composed:
Sir Michael Caine is Andrew Collins's guest on Saturday Night at the Movies, Saturday 30 August 5pm on Classic FM. He'll be talking about his latest highly acclaimed role in Youth in which he plays a retired composer/conductor.
LISTEN: Michael Caine on the Oscars >