A beautiful guitar was smashed on an international flight and the owner is understandably furious
19 January 2016, 12:06 | Updated: 5 January 2017, 11:32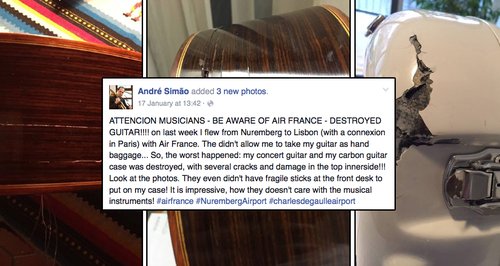 When classical guitarist André Simão got off his flight in Charles De Gaulle airport, he was totally fine - more than can be said for his prized concert guitar.
Simão posted pictures of the damage on Facebook, encouraging a stream of furious and sympathetic comments.
ATTENCION MUSICIANS - BE AWARE OF AIR FRANCE - DESTROYED GUITAR!!!! on last week I flew from Nuremberg to Lisbon (with...

Posted by André Simão on Sunday, 17 January 2016
Reading this on the app? Look at the Facebook post here.
The pictures show that the instrument was so mishandled that even the guitar's hard case was damaged.

It's just the latest in a long series of musical instruments being damaged during international flights.
Flautist threatened with arrest at airport over head joint
Air France's policies do allow for guitars to be transported as hand luggage, but Simão says in the Facebook comments below his post that he was not informed when checking in.