Ellie Goulding asked us to play her new Christmas song… and we totally did
23 December 2015, 15:20 | Updated: 23 December 2015, 15:36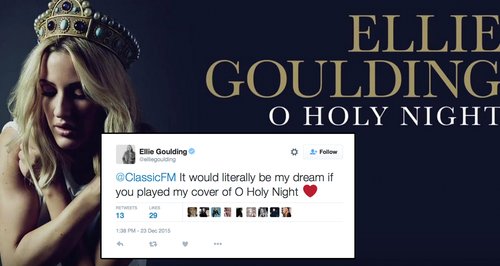 The electro-pop sensation has recorded a festive treat for her fans, and she wanted Classic FM to play it too.
It was just an ordinary day on Classic FM Requests with Anne-Marie Minhall, until this tweet came in:
@ClassicFM It would literally be my dream if you played my cover of O Holy Night

— Ellie Goulding (@elliegoulding) December 23, 2015
No, it wasn't a message from Edmund Goulding, the little-known film music composer - it was from pop superstar Ellie Goulding, who wanted us to make her dream come true by playing her version of the Christmas classic 'O Holy Night'.

Well, we're always happy to accommodate our listeners:
Coming up before 3pm, @elliegoulding. Dreams *can* come true - particularly at Christmas

— Classic FM (@ClassicFM) December 23, 2015
Here's the moment when Anne-Marie Minhall chatted to Ellie herself to tee it up:
Ellie told Anne-Marie about how much she loves listening to Classic FM (*blushes*): "I'm listening to it now while attempting to make some sort of bread pudding type thing for Christmas. It really relaxes me and makes me feel very zenned out."
Seems like everyone liked it, too:
@ClassicFM @elliegoulding I, too, am now Zenned out. Lovely rendition. Thank you and merry Christmas to you both

— Guy Thomas (@Guys_page) December 23, 2015
@ClassicFM @elliegoulding That was everything.

— Galactis // 86 Days (@ItsGalactis) December 23, 2015
ELLIE AT @ClassicFM !!!

— StopT∆lkingInCodes (@Metehan_Tuefenk) December 23, 2015
@ClassicFM @elliegoulding This made my day! Huge Ellie fan, and love Classic FM. Top work!

— Lucy Sutton (@lucyrsutton) December 23, 2015
Merry Christmas, Ellie!