Culture minister slams UK orchestras: 'No-one is doing enough for diversity'
22 January 2016, 15:53 | Updated: 25 January 2016, 10:32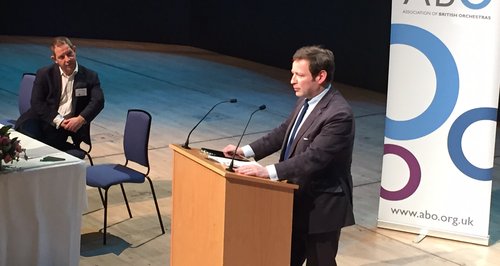 'I refuse to accept diverse talent isn't out there,' Ed Vaizey warns orchestra bosses at the ABO Conference.
Culture minister Ed Vaizey has called for orchestras to do more to recruit ethnic minority musicians just days after British Hollywood star Idris Elba called for more diversity in the UK media and in the same week that the Oscars were widely condemned for failing to include any non-white people among the nominations in the acting categories.
Addressing the Association of British Orchestras conference in Birmingham today, Vaizey said: "None of us is doing enough for diversity. I appreciate [ethnic minority] musicians might not be able to spring fully formed into an orchestra. But I refuse to accept that diverse talent isn't out there."
'Arts organisations are cr*p at social media': Classic FM hosted a debate at the ABO conference >
Vaizey told the audience of British orchestra bosses that they provide "fantastic leadership" for classical musicians, but urged them to tell ethnic minority musicians at an early age that they do have "opportunities to play with our great orchestras".
Vaizey's speech follows Idris Elba's call earlier this week for another part of the creative industries, the British media, to be more inclusive. "Diversity in the modern world is more than just skin colour - it's gender, age, disability, sexual orientation, social background, and most important of all, as far as I'm concerned - diversity of thought," said the actor. "Because if you have genuine diversity of thought… then you won't accidentally shut out any of the groups I just mentioned."
Referring to Elba's speech today, Vaizey said: "This isn't political correctness – it is essential."
He added: "I can't emphasise enough how important it is for people from all communities in the UK to see themselves reflected on the stage."
Vaizey also warned that the pace of change must be quick. "I feel very strongly that leaders in the classical music world can make changes quickly if they want to," he said, suggesting that orchestras would need to show a commitment to diversity before public funds will be made available.
Speaking after Vaizey's speech, Lord Allen, chairman of Global, owner of Classic FM, also echoed Elba's words, saying that "diversity of thinking was required" to bring people of different backgrounds to classical music.