This cellist found the most powerful way to respond to a day of terrorist attacks in Iraq
30 April 2015, 10:03 | Updated: 5 January 2017, 10:22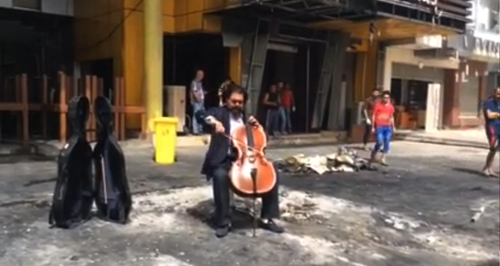 Cellist and director of the Iraqi National Symphony Orchestra Karim Wasfi wanted to send a message to those 'who consider bombs to be the only way'. So he took out his cello.
In Baghdad on Monday, three car bombs were detonated killing at least 10 people. After the emergency services had finished their work on the site, Wasfi took his cello, sat at the centre of the devastated scene and began to play – watch the video below.
Speaking to Al Jazeera, Wasfi said he'd played his cello at the site "to try and equalise things, to reach the equilibrium between ugliness, insanity and grotesque, indecent acts of terror – to equalise it, or to overcome it, by acts of beauty, creativity and refinement.
Exclusive for Soutuna online TVWww.soutuna.comخاص بصوتناالمايسترو كريم وصفي يتحدى العنف ويفتتح صباح اليوم بالموسيقى في مكان الانفجار الإرهابي الجبان في حي ١٤رمضان الرحمة لشهداء العراق الف تحية لكل مبدع يحمل العراق ضميرا وقضية أينما يكون برافو كريم

Posted by Soutuna on Tuesday, 28 April 2015
"When things are insane and abnormal, I have the obligation of inspiring people, sharing hope, perseverance, dedication, and preserving the momentum of life.
He went on to say that amidst the violence, music and culture is as necessary as food, oxygen and water "because it refines and cultivates. Because it inspired people. Because it develops better brains. Because it has a positive impact on the psychology of mankind. And, before all that, it's an international language of mutual understanding."
Speaking to the World Service, Wasfi said: "My message as an artist, as a conductor, also as a cellist, is that when things are abnormal we make things normal. We make things worth living for."