The guitarist from Black Sabbath has written an epic choral piece, and you need to hear it
5 January 2017, 17:00 | Updated: 10 January 2017, 12:01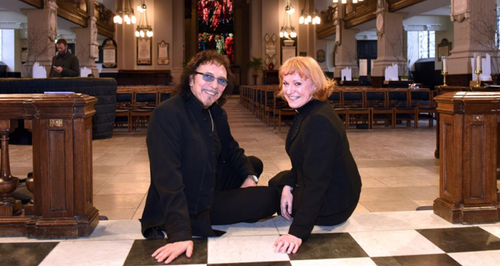 He might be more famous for the iconic riffs of metal overlords Black Sabbath, but guitarist Tony Iommi has revealed a more classically-inclined side to his output.
Tony Iommi has composed a choral piece especially for Birmingham Cathedral, featuring contributions from the Birmingham Cathedral Choir and words selected by the Very Reverend Catherine Ogle, Dean of Birmingham.

The piece, entitled 'How Good It Is', is Iommi's way of "giving something back" to his home city.

Describing the piece, Iommi said in a press release: "It's just a little bit different to Sabbath! We've done instrumental work before with orchestras and it's something I enjoy doing. It's completely different from any of the heavier stuff. This is a completely new piece of music and I'm really pleased with it."

Listen to 'How Good It Is' now:
'How Good It Is'
Tony Iommi (guitar) with Birmingham Cathedral Choir, David Hardie (organ), directed by Marcus Huxley.
Music by Tony Iommi, words selected by Catherine Ogle (Dean of Birmingham), choral arrangement by Paul Leddington Wright.
Engineered, edited and mastered by Mike Exeter. Choir produced by Gary Cole
(P) 2017 Birmingham Cathedral.