Bachtrack reveal 2015's busiest orchestras, conductors and composers - and it's all rather interesting
11 January 2016, 11:07 | Updated: 11 January 2016, 11:11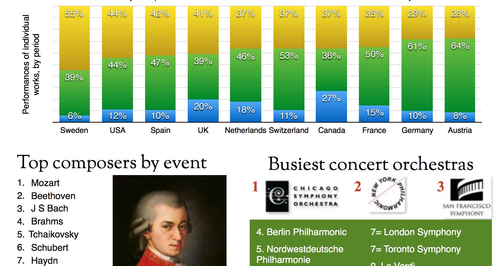 The classical music numbers have been crunched yet again, and last year with Mozart, maestro Jonathan McPhee and Chicago all taking honours.
Every year concert listing website Bachtrack like to tally up 12 month's worth of live classical music. It's always a fascinating insight into the classical world and the music and personalities in it.
2015's results have just been offered, and they contain a fair few talking points.
Around the globe, it would appear we were in the mood for angst and triumph - Beethoven's Symphony No. 5 and its epic journey from darkness to light knocked Handel's Messiah from the top position as most performed classical work in the world.
Following a year of celebrations for the 150th anniversary of his birth, Finnish composer Jean Sibelius enters the top ten performed composers for the first time.
The top 3 busiest orchestras are all in the US, with the title of the world's busiest taken by the Chicago Symphony Orchestra.
Jonathan McPhee was named the world's busiest maestro, narrowly beating Sir Simon Rattle and Valery Gergiev.
Take a look at Bachtrack's full infographic by clicking below, and you can also see more detailed of the review on their site.