This app lets you secretly read notes on your phone DURING a concert
27 June 2017, 10:35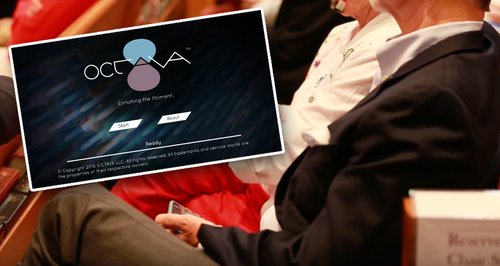 Have you ever felt lost during a concert? Ever wondered whether the orchestra are on the first or second movement of Bach's Brandenburg Concerto No.4, or if they've moved onto the next piece altogether? Well now, there's a solution.
Octava is a new app which delivers programme notes to your smartphone, live as the orchestra plays. So, if you want more details on the concert you're watching, you can read along using the light from your phone screen.
"Pfft, no orchestra will allow that, they won't want their audience to be distracted!", we hear your cry. But as it turns out, the Royal Philharmonic Orchestra have already trialled it. The first British orchestra to get on board with the app gave it its first run earlier this year in Cadogan Hall, in a bid to draw in younger audience members.
The Octava app is "specifically aimed towards new and potentially younger audiences", as Chris Evans, director of Press and Marketing at RPO, told The Telegraph. He also said Octava will "assist the participant through a musical journey".
The Philharmonia are totally on board with the idea, to make the concert experience more educative and fulfilling. But detractors say that using the app will distract other audience members, and take away people's simple enjoyment of the music.
Do you think this is a revolutionary idea, or will it alienate hardcore classical music lovers?