Five arrested as Just Stop Oil protesters storm the stage of 'Les Misérables' in London's West End
5 October 2023, 10:21 | Updated: 5 October 2023, 10:40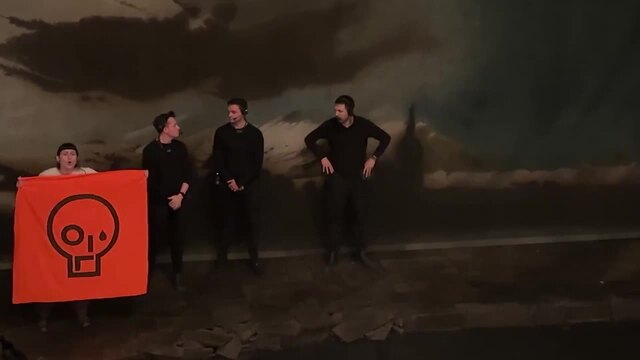 Just Stop Oil protesters disrupt West End performance of Les Miserables
Protesters attached themselves to the stage of London's Sondheim Theatre just before 9pm, forcing the cancellation of the rest of the night's performance.
Just Stop Oil protesters took to the stage and forced the end of a performance of the musical Les Misérables at London's Sondheim Theatre last night.
Activists attached themselves to the stage using bicycle locks at around 8.50pm during the musical's most popular song, 'Do You Hear the People Sing?'.
Organisers said the performance was forced to stop and the rest of the show was cancelled. The theatre was evacuated by 9.10pm.
The group shared a video of the incident on X, formerly known as Twitter. Whistles and boos from the audience can be heard as the activists unfold banners on stage.
When posting the video, the group asked, "Valjean steals bread to feed a starving child. How long before we are all forced to steal?"
The Metropolitan Police have released a statement saying: "At about 9pm tonight, police were called to a protest inside a theatre on Shaftesbury Avenue, WC1."
Read more: Glyndebourne opera disrupted as Just Stop Oil blast air horns during Poulenc performance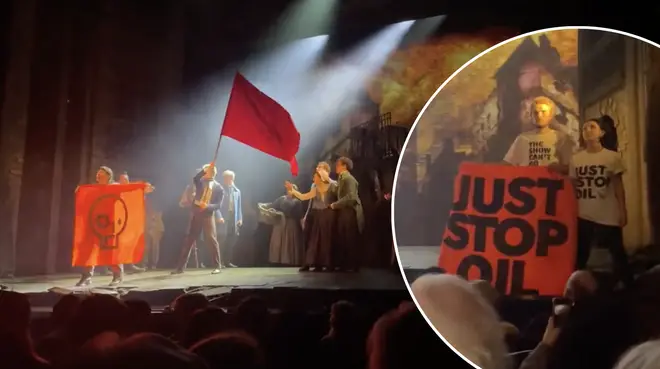 The musical's conductor, Robert Emery, spoke to Classic FM's sister station LBC about the incident. "I'm shocked by it to be honest with you, I just don't really understand it," he said. "The actors on stage... I feel desperately sorry for them, as well as the audience.
"It's frightening," he added. "What people forget is when you're on a stage and you're looking at the audience, you can't see anything. There's lights blaring in your eyes. And all of a sudden you hear this commotion.
"And I've experienced this firsthand as a conductor where my back is to the audience all the time, and you hear a commotion and you think what on earth is happening – it's terrifying.
"I feel desperately sorry for all the people who spend their hard earned money going to the theatre and they've been destroyed for the night."
With music by Claude-Michel Schönberg and lyrics by Herbert Kretzmer, Les Misérables premiered in 1980. The musical has been running in London's West End since 1985.
William Village, chief executive of Delfont Mackintosh Theatres which owns Sondheim Theatre, said the protesters "invaded the stage, abruptly stopping the show".
"Following our safety protocols, the audience were asked to leave the auditorium and the Met Police attended," he said.
"Regrettably, there was insufficient time to enable us to complete the rest of the performance. Whilst we recognise the importance of free expression, we must also respect our audience's right to enjoy the event for which they have paid."