Top soprano fired by Hamburg State Opera because she's pregnant
23 April 2018, 12:44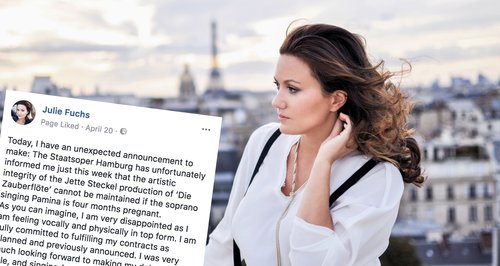 Julie Fuchs has claimed she's been fired from the role of Pamina in Mozart's 'The Magic Flute' because the 'artistic integrity of the production' could be compromised
Julie Fuchs was due to perform in a production of Mozart's The Magic Flute at the Hamburg State Opera from next month. But in a Facebook post she said she'd been told the 'artistic integrity of the production cannot be maintained if the soprano singing Pamina is four months pregnant'.
She went on to add: "As is the case with most women, in this second trimester of my pregnancy, I am happy to report that I am feeling full of energy and my good health has been confirmed by my doctors."
Fuchs told Classic FM: "I understand that my pregnancy does present the need for certain accommodations for both the director of a production and opera house. It is for this reason that I gave the Staatsoper Hamburg the most advance warning possible (one month before the start of rehearsals), in order to give them ample time to solve any challenges.
"I was assured up until this week that the staging could be altered to allow for my participation. I am committed to honouring my commitments as a singer provided that it does not pose a risk to me or my baby."
Hamburg State Opera posted a statement on Twitter yesterday: "The Hamburg State Opera regrets that we are not allowed to fill the soprano Julie Fuchs in the role of Pamina in the Hamburg production of The Magic Flute. After a thorough examination, it is not possible to change the staging so that there is no danger for the expectant mother and at the same time the core of the production of Jette Steckel remains. There are a variety of physically demanding scenes in this production, including several flight scenes, which are prohibited in principle for pregnant women. The legal situation for the protection of the expectant mother is clear and we will never take a health risk, even if only a risky scenic action could take place on the stage"