Details on Jeff Goldblum's new album: Release date, piano covers and more
1 July 2019, 12:41 | Updated: 1 July 2019, 12:45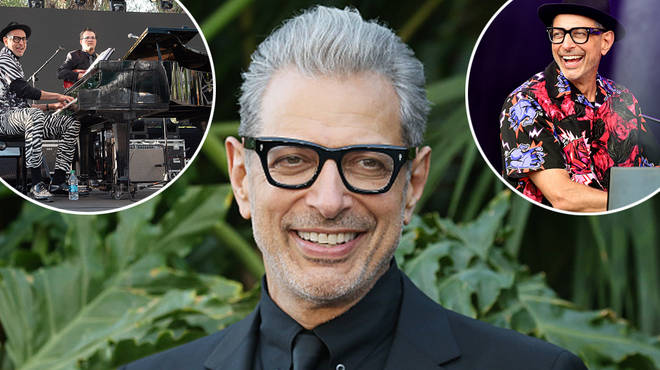 Jurassic Park star Jeff Goldblum has announced he will be releasing a new album of piano covers.
Taking to the stage at this year's Glastonbury festival, actor Jeff Goldblum wowed fans with a piano cover of the Jurassic Park theme tune.
As well as performing on the West Holts stage, he also took the opportunity to announce he's releasing a second studio album with his band, the Mildred Snitzer Orchestra.
Here's what we know about Jeff Goldblum's new album so far...
When will Jeff Goldblum's new album be released and what has he said about the music featured?
Jeff's debut album, entitled The Capitol Studios Sessions, was released back in November 2018, and included covers of everything from Nat King Cole's 'Straighten Up And Fly Right' to Marvin Gaye's 'Don't Mess With Mister T'.
The album proved a huge success, and went to No. 1 in Billboard's US Jazz Albums chart.
To crowds gathered at Somerset's Worthy Farm, Goldblum said: "Getting to do another album with the sweet, sweet, enchanted elves and sprites from Decca has me floating on air, somebody please pinch me (ow, not so hard). I only hope that listeners feel what I felt when we made the record – an explosive release of ecstasy. It's amazing to let the cat a bit out of the bag here at Glastonbury in the fleshy flesh!"
While we know the album will be released later this year, we've yet to get an official date – so watch this space!
How long has the actor played piano for?
Goldblum has actually played piano for the majority of his life. He's also been performing with his band, the Mildred Snitzer Orchestra, for over 30 years.
Decca records signed the Jurassic Park star after he performed live on The Graham Norton Show last year, with soul-jazz musician, Gregory Porter.
Goldblum has played in a number of famous jazz clubs, including venues in London, Paris and Berlin.
What tracks will feature on the LP?
The full tracklist has not been confirmed yet, but Goldblum did reveal that the new LP would feature vocals from Sharon Van Etten.
Vice President of Decca Records, Tom Lewis, said: "It is impossible not to smile in the company of Jeff Goldblum. The man radiates charm and makes you feel glad to be alive. I am so excited that Glastonbury will experience a dose of his magic. We were delighted with the incredible global response his debut album received. He was one of Jazz's biggest debut artists last year, if not the biggest. His new album is going to be a real treat."
What did Jeff perform at Glastonbury 2019?
For the first time ever, the Hollywood actor graced the stage at Glastonbury this year.
As well as performing an epic cover of the Jurassic Park theme tune by John Williams, Goldblum played jazz classics to the crowds gathered in front of the West Holts stage.
He was joined on stage by Sharon Van Etten, who leant her vocals to the performance. As Goldblum welcomed Van Etten onto the stage, he confirmed she would also be featuring on his new album.
They they went on to perform Irving Berlin's 1936 track, 'Let's Face The Music And Dance.'