The Lark Ascending reaches the top of the Classic FM Hall of Fame for the third year in a row
28 March 2016, 20:41 | Updated: 29 March 2016, 16:59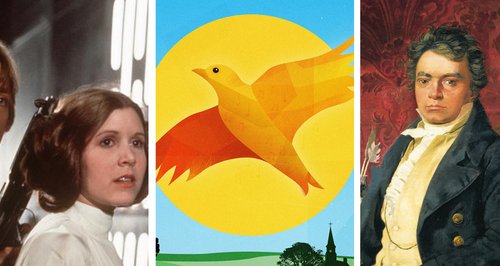 The 2016 Classic FM Hall of Fame saw one of the biggest shake-ups in the chart's history. And although Vaughan Williams' much-loved Lark held its title, it was all change further down the top 300.
This year's chart included more 'climbers' and fewer 'fallers' than ever before – 161 pieces rose up the chart while only 97 tumbled down the top 300.
The highest climber was Ronald Binge's The Watermill, which shot up a phenomenal 147 places to No.123. This year's biggest faller was Grant Kirkhope's sound track to the video game Viva Piñata.
John Williams' iconic music for Star Wars shot up the chart to its highest ever position, receiving a boost from the publicity around the release of the latest film in the franchise.
Williams is also the most popular living, with five other entries in the top 300, including Schindler's List and Jurassic Park.
For the first time, Beethoven had three more pieces in the chart than Mozart, with one new entry – the Serenade in D major – and two re-entries – his opera Fidelio and the Triple Concerto.
Classic FM presenter and Beethoven fan, John Suchet said: "I think that Beethoven's position as the most popular composer has to do with films such as the Oscar-winning The King's Speech, which famously used his Seventh Symphony, but his music is so universally popular. If you land on any street in any town in any country of the world, someone will know Beethoven's work."
More than 170,000 votes were cast in this year's Classic FM Hall of Fame. The top 20 are listed below - click here for the full chart:
| | | |
| --- | --- | --- |
| | Composer | Title |
| 1 | Vaughan Williams | The Lark Ascending |
| 2 | Rachmaninov | Piano Concerto No.2 |
| 3 | Vaughan Williams | Fantasia on a Theme by Thomas Tallis |
| 4 | Elgar | Enigma Variations |
| 5 | Beethoven | Piano Concerto No.5 ('Emperor') |
| 6 | Allegri | Miserere |
| 7 | Mozart | Clarinet Concerto |
| 8 | Beethoven | Symphony No.6 ('Pastoral') |
| 9 | Beethoven | Symphony No.9 ('Choral') |
| 10 | Elgar | Cello Concerto |
| 11 | Bruch | Violin Concerto No.1 |
| 12 | Barber | Adagio for Strings |
| 13 | Tchaikovsky | 1812 Overture |
| 14 | Holst | The Planets |
| 15 | Jenkins | The Armed Man: A Mass for Peace |
| 16 | Pachelbel | Canon in D major |
| 17 | Uematsu | Final Fantasy |
| 18 | Dvorak | Symphony No.9 ('From the New World') |
| 19 | Beethoven | Symphony No.7 |
| 20 | Bach | Brandenburg Concertos |