We went backstage at the Gramophone Awards 2016 and filmed all the action
15 September 2016, 10:45 | Updated: 19 September 2016, 10:34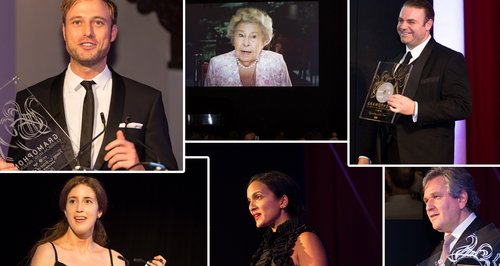 The stars of the classical music world were out in force tonight, celebrating the greatest music making of the past year. We followed all the action.
Getting ready for classical music's big night
It was a hot day in London and there was a lovely Baroque church to fill with beautiful music. Hello, St John's Smith Square!
We filmed lots of video of today's classical stars
Here's amazing Vilde Frang with some showstopping Tárrega. Recuerdos de la Alhambra - just lovely.
We live streamed the whole ceremony
Thanks to our friends at Medici TV you can watch the whole thing - music, awards, and classical industry chatter - wherever you are in the world:
2016 Gramophone Classical Music Awards on medici.tv.
We're also giving away a signed copy of the Gramophone Recording of the Year, by pianist Igor Levit.
We captured Igor in a relaxed moment, playing a spot of jazz. Here he is with Round Midnight.