Grammar school will charge students for GCSE music in 'deeply troubling' move
4 January 2018, 12:59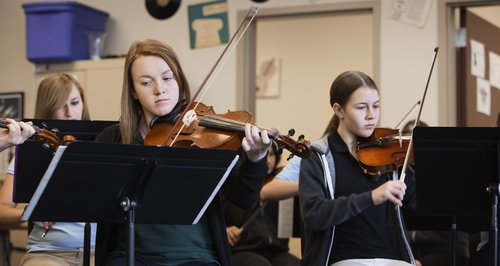 A grammar school in Yorkshire has controversially decided to offer GCSE Music at a charge of £5 a week.
Bingley Grammar School in West Yorkshire stated on its website that it plans to offer a music theory class out of school hours once a week for those who would like to continue their studies in music.
The school will be offering GCSE Music at a 'nominal' charge of £5 a week per student.
The move has been labelled as 'shocking and deeply troubling' by the Incorporated Society of Musicians, who are asking the school to change their policy. The ISM stressed their concerns that the move will mean GCSE Music is only available to those who can afford it.
ISM's chief executive Deborah Annetts told Gigwise: "With school budgets under pressure and the government excluding music and other creative subjects from major school league tables known as the EBacc, we are seeing a year-on-year drop in the uptake of music in our school."
"This new development is shocking and deeply troubling. Music is at risk of becoming the preserve of those who can afford it and the government must act now to ensure it is available to all. We have also written to the school asking for them to reverse their policy which may be in breach of government guidelines," Annetts added.
In the last five years, a study by Sussex University shows that the number of schools offering GCSE music fell from 85% in 2012-13 to 79% in 2016-17.