Aled Jones surprises children's music charity with an enormous cheque — and the reaction is heartwarming
18 April 2019, 05:58 | Updated: 18 April 2019, 09:10
At Classic FM, we're committed to working with our listeners to help change lives — and in our video, Aled Jones surprises children's music charity The Amber Trust with a cheque much larger than they were expecting...
From loud outfits and exciting events, to extreme challenges conquered and supported, last October you helped us raise £4.2 million for Global's Make Some Noise.
It's all thanks to your generous donations and incredible efforts that Global's Make Some Noise has been able to give life-changing grants to 31 small charities across the UK.
A few familiar faces got involved too, including classical pianist Myleene Klass, who gave an exclusive performance at Global's London headquarters, and fellow Classic FM presenter Aled Jones, who strapped himself to the wing of a plane.
Following everyone's hard work, Aled was able to surprise one of those small charities, The Amber Trust, with an impressive cheque for £88,000 – more than double what they had been expecting.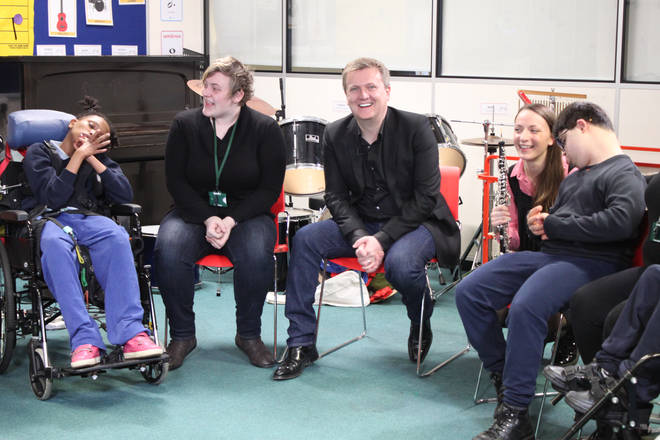 Founded in 1995, The Amber Trust helps blind or partially sighted children in the UK who have a talent or love for music.
There are currently an estimated 25,000 children across the country with visual impairments who live in poverty and can't afford musical experiences.
But supporters of the charity believe that visual impairment and other disabilities shouldn't prevent children and young people from accessing these opportunities, so they provide grants for music lessons, music therapy, instruments, equipment and concert tickets.
Global's Make Some Noise had originally set out to raise £32,000 for The Amber Trust to help fund its projects for a year – but thanks to the generosity of Classic FM listeners, we're able to provide funding for two years.
After being presented with the cheque by Aled, Julia Walport, a Trustee and Chair of The Amber Trust said: "That's an absolutely astonishing sum of money! That's far more than we anticipated.
"I mean, I just can't believe how much you've all raised. It's absolutely fantastic!"
What does the future hold?
From Liverpool to London, and Glasgow through to Southampton, Global's Make Some Noise will be helping almost 17,000 children and young people living with illness, disability or lack of opportunity over the next two years.
The national charity is doing this by funding nearly 18,000 hours of support for children and young people living with disabilities, including over 5,500 hours of specialist support for children with autism.
The grants given will provide 6,500 hours of vital support for children, young people and their families experiencing cancer, more than 2,000 counselling and therapy sessions for children and young people affected by mental health, and over 6,000 hours of much-needed help for young carers.
Make Some Noise is also funding 57 roles across the charities. This includes two Clinical Psychologists for children with brain tumours and their families, two case workers specialising in domestic abuse, as well as a Bereavement Support Practitioner for children who have lost a close family member.
None of this could happen without you. To date, you've helped us support 224 small charities, improving the lives of over 73,000 children and young people, and thousands more families.
THANK YOU!