George Martin, producer and 'Fifth Beatle', dies aged 90
9 March 2016, 10:49 | Updated: 10 March 2016, 10:11
Sir George Martin, legendary producer of The Beatles' records and so-called 'Fifth Beatle', has passed away at the age of 90.
The news was announced this morning by Beatles drummer Ringo Starr, who tweeted: "God bless George Martin peace and love to Judy and his family love Ringo and Barbara. George will be missed." He added: "Thank you for all your love and kindness."
Martin (pictured below, second from right, with The Beatles) was one of the most renowned producers in pop music history, producing and providing inventive musical contributions to The Beatles' key albums, including legendary works like The White Album, Revolver, Rubber Soul and Sgt. Pepper's Lonely Hearts Club Band.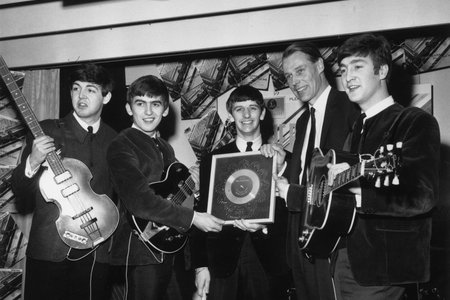 Admired by his peers
In this exclusive interview from the Classic FM archive, Sir Paul McCartney talks about how George Martin helped to create the unique Beatles sound:
Choral composer Eric Whitacre paid tribute to Martin on Instagram saying "Hard to overestimate his impact on music and the lives of so many. Thank you, George, for everything."
Classical beginnings
Martin was originally interested in classical music. He heard his first full orchestra when Sir Adrian Boult took the BBC Symphony Orchestra to Martin's school in Bromley for a performance. Martin said he began dreaming of becoming the second Rachmaninov, and at 16 went to a private recording studio to record a piece he'd composed.
"Looking back it was nothing amazing," he later said, "a bit florid and Debussy-like by a very pompous little 16-year-old git."
Attending the Guildhall School of Music between 1947 and 1950, Martin studied piano and oboe, and particularly took to the works of Ravel and Rachmaninov along with the music of Cole Porter and Johnny Dankworth.
With The Beatles
When he became head of Parlophone Records in 1955 and then came across a four-piece rock 'n' roll band called The Beatles in 1962, though, his place in music history became permanent.
Over the course of the band's career, Martin used innovative production techniques to support and influence the band's songwriting, providing string arrangements for songs like Paul McCartney's 'Yesterday' and 'Eleanor Rigby'.
After his time with The Beatles, Martin also produced such tracks as Elton John's re-released version of 'Candle In The Wind', dedicated to Diana, Princess of Wales.
Saving the Swordfish
In 2001, Martin wrote a piece to raise funds to save the last two Swordfish aircraft - he was in the Fleet Air Arm during the war. He told Classic FM's John Brunning at the time about the campaign, and the composition:
Composing credits
His classical works include Three American Sketches, from which the Classic FM favourite piece 'Old Boston' is taken. The work shows Martin's stylistic command of 20th century American music, reminiscent of the works of Samuel Barber and Aaron Copland.
Martin also composed for a number of film soundtracks, notably the 1973 James Bond outing, Live and Let Die for which Paul McCartney and Wings sang the title song.
In 1979, he produced the recording of John Rutter's The Beatles Concerto in Liverpool Philharmonic Hall with the Royal Liverpool Philharmonic Orchestra conducted by Ron Goodwin.
George Martin was knighted by HM The Queen in 1996.