EU president orders bureaucrats to find funding for the EU Youth Orchestra
1 June 2016, 13:00 | Updated: 1 June 2016, 13:06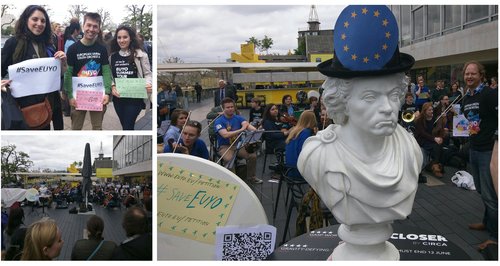 President Juncker steps in to save EUYO after wave of protests at closure
The European Union Youth Orchestra has been brought back from the brink of extinction following an intervention from the EU president.
Last month, the EUYO announced that it would close this summer after EU funding was withdrawn.
However, at a briefing yesterday, a European Commission spokesperson said that President Jean-Claude Juncker had asked commissioners to find "immediate solutions that can be sustainable".
An announcement later confirmed that the Education, Youth, Culture and Sport Council had agreed the need for EU funding for the EUYO.
EUYO boss Marshall Marcus tweeted his thanks to an Italian minister who had proposed a motion in support of the orchestra:
1976 Italian Maestro Claudio Abbado founding music dir. @EUYO.2016 Italian MInister Cult @dariofrance help saved it https://t.co/CqebOMwYlu

— Marshall Marcus (@marshallmarcus) May 31, 2016
In a statement, the EUYO said it would take time to secure funding and that nothing is guaranteed until "we have the correct detail in writing". It continued: "However this is a significant moment in the campaign. Thanks again for everyone's support thus far."
The developments follow weeks of protest across Europe at the imminent closure of the EUYO.
Two weeks ago, a group of musicians assembled outside London's Royal Festival Hall to perform an excerpt from Beethoven's Ninth Symphony as part of a Europe-wide day of musical action to support the embattled orchestra.
There were also musical protests in other cities around Europe including Amsterdam, Romania, Brussels and Madrid. Musicians around Europe showed their support on Twitter:
Save the EUYO! All over Europe young musicians played the European anthem for #SAVEEUYO! https://t.co/3jp9bh6rgJ pic.twitter.com/jzF5oWTWTI

— Het Concertgebouw (@Concertgebouw) May 20, 2016
Maltese musicians showing their support for #SaveEUYO. pic.twitter.com/YingI2R4iy

— Brian O' Regan (@drumheadcase) May 20, 2016
Brussels joining for Ode to Joy. #SaveEUYO @EUYOtweets pic.twitter.com/3ZYXP5D0Wg

— Bram Mergaert (@brammergaert) May 20, 2016
#SaveEUYO #romania #bucharest pic.twitter.com/3bvZemD3vu

— Simona Rentea (@simonerentea) May 20, 2016
In a statement last month explaining why it faced closure, the EUYO said: "The EUYO was informed on 15 April 2016 that its Creative Europe partnership is no longer in receipt of any funding from the EU. Since that time the Orchestra has been in regular contact with the EU to attempt to find alternative funding from the EU. However the funding routes so far suggested by the EU do not allow the Orchestra to plan any form of secure future.
"Without EU support the Orchestra has no viable future. In the absence of EU funding it will therefore cease operations from 1 September."
The EUYO counts among its members performers from all 28 EU member states and has been conducted by a host of iconic maestros, including Leonard Bernstein, Daniel Barenboim, Herbert von Karajan and its founder Claudio Abbado. It was established by a resolution of the European parliament in 1976 and charged with being a cultural ambassador for the continent.
However, in 2014, a change in cultural funding policy meant that the Orchestra was no longer funded by the EU and had to apply to a new European Commission body, Creative Europe, for funds. Even those funds have now dried up.
The Chief Executive of the orchestra told Classic FM: "This outrageous decision needs to be contested… This orchestra, for 40 years, has been a great beacon for the ideas of the EU and I think it's one of the EU's greatest cultural ambassadors."
The executive director of the Royal Philharmonic Society also showed her support for the orchestra, saying: "The EUYO is a great ambassador for Europe, it would be an absolute disaster if it closed down."